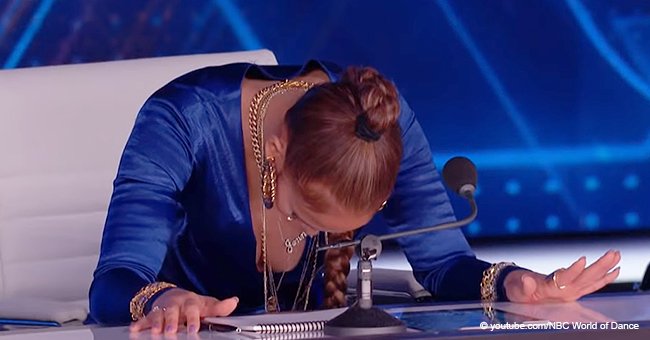 8 Little Dancers Wow Jennifer Lopez with Their Jaw-Dropping Routine
Jennifer Lopez is blown away by a group of eight little girls, called The Crazy 8's, who executed a perfect routine during the "World of Dance" season premiere.
The Crazy 8's danced a choreographed routine with precision to the music, "Keeping Your Head Up" by Birdy. The judges' reactions and facial expressions said it all. They nailed their performance.
J.Lo was first to speak through the loud cheers saying,
"I want to know everything about you! What's going on in your little heads and your little hearts and your little bodies?"
Asked what their dance routine was about, the girls explained that their inspiration was to show their love and care for one of their own members, Naia, who has a condition called "selective mutism". Naia quietly beamed as J.Lo gave her high praises for her solo dance moves that required spinning on her belly while in an arabesque hold.
Naia felt perfectly fine expressing herself through dance, but her condition stops her from verbally communicating in select social environments. The Selective Mutism Center says that symptoms of this disorder include anxiety displayed through moodiness and extreme shyness, sleep problems, and frequent crying and tantrums.
The girls touched J.Lo's maternal instincts, and she awarded them a score of 95 giving them an average well above the requirement to continue on in the competition.
Lopez is a mom to twins Max and Emme. The 11-year-olds born on February 22, are her kids with former husband, singer, and producer, Marc Anthony.
She often shares photos of the twins on their birthdays with sweet, loving messages for her favorite pair born just a minute apart.
This year was no different. J.Lo posted a greeting for her son, Max, saying,
"Happy Birthday my lil beautiful coconut brilliant boy. Mommy is so proud of you!!! #foreverlove #maximiliandavid #11 2/22 12:22 #twoismyluckynumber #twins"
Emme looks so much like her famous mom.
This year she shared a short video on their birthday, showing her daughter singing. She captioned it with,
"Happy birthday my perfect marshmallow coconut princess Momma is so proud of you!! #foreverlove #emmemaribel #11 2/22 12:21 #twoismyluckynumber #twins"
The 49-year-old mom openly gushes about how she loves them and how grateful she is that they came into her life.
Please fill in your e-mail so we can share with you our top stories!