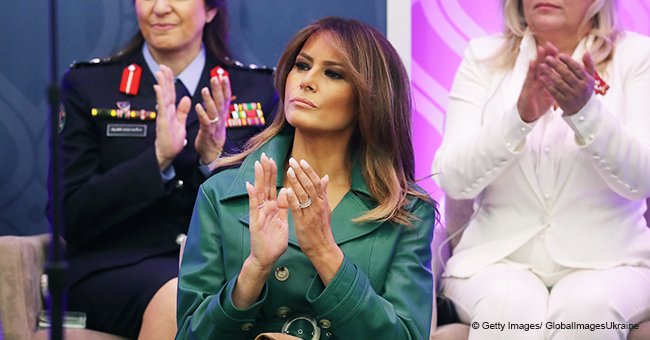 Melania Trump Wows in Gorgeous Green Leather Trench Coat at International Women's Day Event

Melania Trump attended a women's empowerment event and certainly looked the part in a green coat that stole the show.
The first lady of the United States attended the 2019 International Women of Courage awards ceremony on Thursday, March 7.
Held in Washington, D.C., the event focuses on "women who advocate for the protection of human rights," help increase their status, and improve government transparency on a worldwide scale.
Melania shared words of encouragement as she spoke at for the occasion. Yet just her outfit may have inspired many women around the world.
She wore a long-sleeve button-up trench coat and looked as elegant as they come. Buckled at the waist, the jacket sported two large pockets at the thighs.
She adorned a taupe skirt underneath the coat and matched with some nude heels. The first lady chose to wear very little jewelry, with just her wedding bands seen on her fingers.
Melania, 48, chose to go with her signature hairstyle and wear her hair down. She looked just as strong-willed as the ten women whom she presented with the International Women of Courage Awards (IWCA).
Melania Trump at the 2019 International Women of Courage celebration in Washington, D.C. | Photo: Getty Images
In part of her speech she said:
"It is a great honor to meet and celebrate in the incredible achievements of these women and the challenging endeavors they have undertaken. I am proud to be the First Lady of a country where our democracy not only allows but empowers, the ability to defend and promote all of our rights. These women are beacons of hope for many around the world."
Joining her in the presentation was Secretary of State Mike Pompeo. Recipients of the IWCA originated from Tanzania, Peru, Myanmar, Montenegro, Sri Lanka, Jordan, Ireland, Egypt, Djibouti, and Bangladesh.
The event comes ahead of International Women's Day which will be celebrated on Friday. During her speech, Melania gave special recognition to female lawmakers in Washington.
She said:
"We now have more women in Congress than [at] any other time in our nation's history. Throughout history, women have contributed in so many ways to our society."
Currently, 127 women serve in Congress, with the majority of them being Democrats. The number of Republic congresswomen stands at 21 in the House and Senate.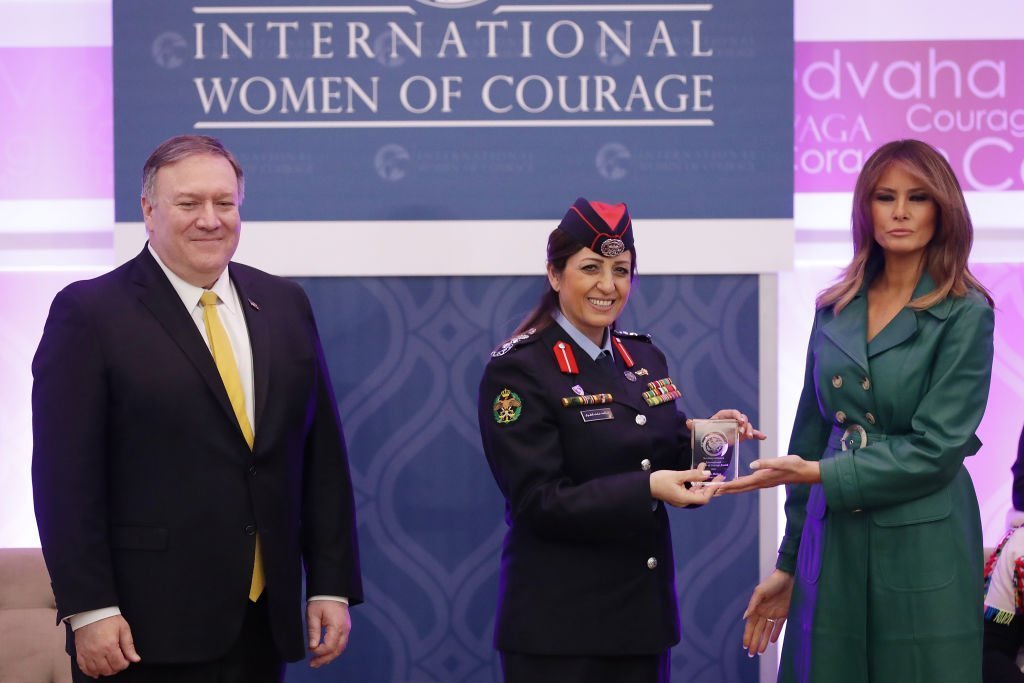 Mike Pompeo and Melania Trump at the 2019 International Women of Courage celebration in Washington, D.C. | Photo: Getty Images
It was Melania's third time participating in the occasion that focused on lawyers as well as female officers, journalists, and human rights activists. According to Melania, these courageous women are "those who actually act to change" and not just talk about it.
The annual celebration began in 2007 and has accumulated 120 recipients since then. This year, one of its recipients was not with us as she died following an acid attack. She was a Ukranian activist.
On Tuesday, Melania again stunned while giving a speech in Las Vegas for her "Be Best" campaign. She was donned in a chic button-down navy dress that stopped at her knees.
The first lady joined former Fox News host Eric Bolling for the last leg of her three-state tour. She spoke about the opioid crisis plaguing the country and she looked amazing doing it.
The form-fitting piece showed off her amazing figure and model legs. Again, she opted to let her hair loss. She paired her outfit with a pair of matching Christian Louboutin pumps and accessorized with a blue belt which had a gold buckle.
Please fill in your e-mail so we can share with you our top stories!