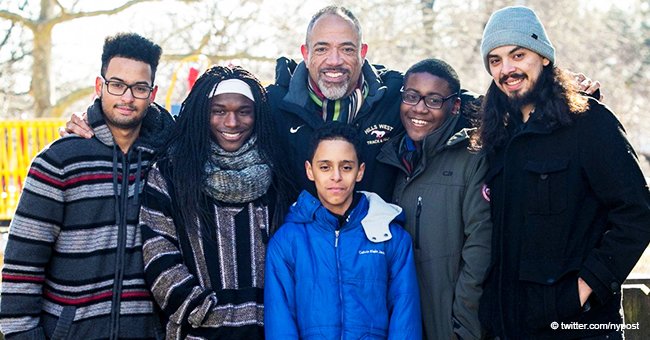 60-Year-Old Single Dad Decided to Adopt 7 Kids on His Own: 'This Feels like the Right Thing to Do'
Joe Toles made a decision to be a single father to seven boys, adopting each of them as teens because of his own experience in foster care.
At 60, Joe Toles isn't done expanding his family. He raised his six adopted sons on his own, and he is in the process of adding a seventh, 20-year-old Jhon.
Drawing strength and inspiration from his own personal journey of being sent into foster care, the rejection he felt as a teenager when his adoptive parents were absent in most of his milestones, and the unexpected kindness and support he got from a high school coach that set him on a straight path, Joe came to the conclusion that,
"Adopting an older child gives hope to somebody who probably doesn't have much hope at that moment. No matter how old they are, they need a home base and to be part of something."
Well aware that adoptive parents usually want babies, he understood from experience that teens who aren't adopted need the most help because chances are they end up on the streets homeless from a series of misguided decisions.
He adopted Xavier first when he was 17-years-old, followed by Jonathan, Ronny, Creemel, Kamren, Cinsere, and is currently working to legalize adopting Jhon who is from the Dominican Republic.
Toles shares this about his large family,
"It takes work, but I make the effort in nurturing the relationships. Until I took the plunge, I would never have understood the real difference it's made to all our lives. Love happens, and it changes everything."
The same thing goes for Arkansas couple, Michael and Terri Hawthorn, who last Christmas formally adopted seven siblings.
The Hawthorns already had four biological children and two other adopted children, bringing their total number of kids to thirteen.
They said of the way adoption came into their lives,
"I don't think we ever planned on this, but things change in life. You open doors to these children --especially the ones that spend time with you -- they were like our own kids even before we adopted them."
Please fill in your e-mail so we can share with you our top stories!