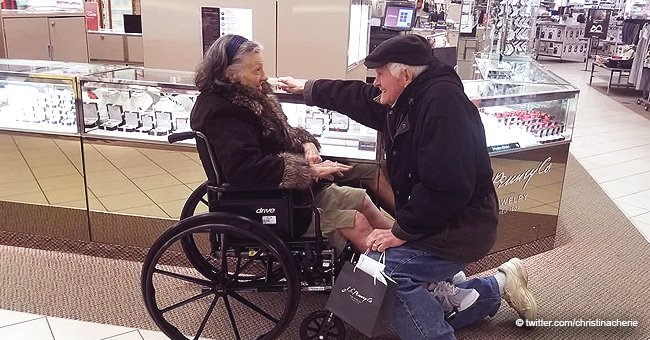 Husband Goes down on One Knee to Propose to His Wife with a New Ring after 60 Years of Marriage
An aged couple is currently taking the internet by storm after they decided to renew their vows after decades of being together. Now viral, Twitter users have taken to the page to share words of admiration.
A Christina Cherie took to Twitter on March 2 to share the story of the Schwarz couple. She is their granddaughter and couldn't hold her joy as she shared photos of the old pair on her page.
Alongside the images, she posted a short message about the duo, and it read:
"My grandma has been very sick & we don't know how much time she has left. After over 65 years of marriage, my grandpa got her a new ring and proposed to her again.... I don't know why I'm crying in the club rn."
Her words are enough to capture the sweet story of love between Karl and Donna Schwarz. Not everyone believes in finding a soul mate, but there is no arguing that this pair was meant to be together.
According to CBS News, the love story began as far back as the 50s when they got married in 1956. Karl Schwarz first met Donna in high school, and they remained together ever since going on to start a family of their own.
The Texas couple has been together for a total of 63 years and raised their four children together. They would go on to watch their children grow and give rise to two generations! They haven't always had it easy though, and 2018 was a very trying time for them as Donna's health declined month after month.
She spent a lot of time in the hospital following open heart surgery and also suffered a seizure and stroke, but through it, all Karl remained strong by her side.
Their granddaughter, Karly Gibbs told sources:
"Grandpa never left her side; the rehab center brought in a chair where he slept every night until she was strong enough to come home."
84-year-old Karl then promised Donna, who is three years younger, a new engagement ring if she became well enough to return home. That was all Donna needed as she did get strong enough to leave the rehabilitation facility. Earlier this month, Karl took Donna to a department store where he picked out a diamond ring, got on one knee then asked her to marry him once again, and of course, she said yes!
Family members recorded the emotional moment on tape, and their grandchild excitedly shared it on Twitter. However, it came after the numerous photos she'd posted and seeing that the story had become very popular she decided to share the video and wrote:
"Since this blew up I'll post the video too. look how happy she looks omg."
The story of the Schwarz couple has elicited a chain of reactions as they have Twitter users in awe of their steady relationship. Some of the complimentary tweets read:
@ktelizh722:

"This has to be the CUTEST shit I've seen."
@emmawhiteside_:

"Omg the last two pics!!!! Melts my heart."
Congrats to the "newly engaged" old couple. What a sweet tale of love!
Please fill in your e-mail so we can share with you our top stories!