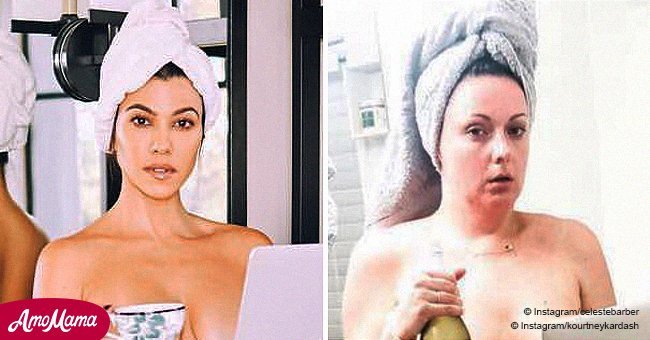 Comedian Mocks Kourtney Kardashian's Completely Naked Photo and 'KUWTK' Star Claps Back

Kourtney Kardashian's fans have no chill as they charged at Celeste Barber who called out the reality star in a recent post.
Australian comedian, Celeste Barber is famous for recreating celebrity photoshoots adding a touch of ridicule which makes it look way less attractive.
The 36-year-old is at it again, and this time, Kourtney Kardashian is her recipient.
Celeste took to Instagram to share her parody of Kourtney K's recent nude upload and boom; she set the internet ablaze.
Earlier this week, Kourtney had posted an unclad picture of herself to promote her new brand called "Poosh," but Celeste thinks it's an attempt to keep riding her coattails for attention.
As seen in the shot, the 39-year-old reality persona posed nude while sitting with her legs crossed atop a counter. Kourtney shielded her breasts with a laptop and a teacup she held in her hands.
The comedy post featured Kourtney K's nude picture in a collage with the less glamorous Celeste's with a demeaning caption that says: "When you're flat out trying to keep the world interested in your talent."
Oops! That's hot! But do you want to know what's hotter? Kourtney K's clap back!
It's not the first time the Kardashian's would be called out for having no talents, so that "diss" is not a foreign pathogen to their body system.
The Kardashians have been sensitized well enough that they have the right weapons to fight back. And they don't just fight alone; they fight back with a whole army - their fans.
The "Keeping Up With The Kardashian" star didn't "ignore the roasting." Kourtney fired back asking Celeste to show the world her talent if she got any.
Kourtney replied with a winking emoji with the words, "When you've got so much talent, might as well share it."
As DailyMail reported, over 42,000 fans are in approval of Kourt's reply as they also fired disses at Celeste.
Some of the comments from the KUTKW fans read:
@kaikavousii:"Imagine hating on the Kardashians for relevancy ?"

@wesg12:@celestebarber At least we know you don't have the talent to look even half decent ?"
Celeste, however, has her supporters who stood firm to take bullets from the KUTKW army.
@natanddansmom went,"Talent? Hahaha! Celeste - you have more talent in your pinky finger than that person has in her whole body! Thank you for keeping it real!?"
Celeste is causing a lot of stir online, and it looks as though she's having so much fun. It's what comedians do after all. But she's had her dark times too.
A Daily Mail article that surfaced sometime in February has it in it that the comedian once had a near-death experience.
In an honest interview with InStyle Australia, Celeste recounted an account of having open-heart surgery at 25.
Those were "darker times" of her life as she likes to call it. The mother-of-two admitted she "nearly died" and the surgeons "literally pulled at my heartstrings." But she pulled through.
Now, she's cracking up some people and simultaneously causing trouble.
Please fill in your e-mail so we can share with you our top stories!