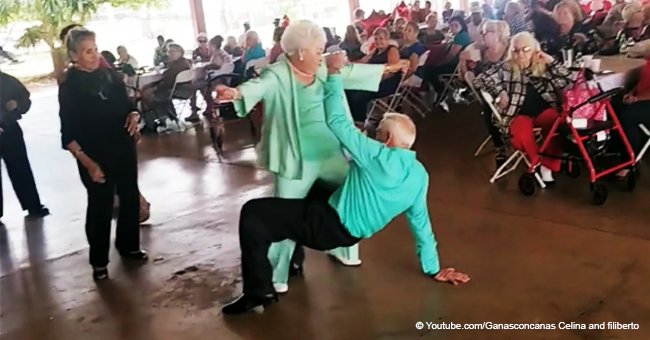 Elderly Couple Become Internet Stars by Passionately Dancing to Daddy Yankee's Song
This lovely elderly couple has incredible moves, and the video of their sensual dance to the rhythm of Daddy Yankee's daring reggaeton quickly went viral.
Age really is just a number in our heads, and in no way determines the things we are capable of doing. As simple as this message may seem, it is important to repeat it, because society still hasn't fully grasped it. This is why most people quickly stereotype seniors as weak and immobile.
But if there is a couple of grandparents that prove the error of this concept, it is Celina and Filiberto. This pair of Cubans have taken over social media, earning attention from all sides of the world with their daring dances and impressive agility.
In their most recent viral video, they have proven how well they can dance to the reggaeton rhythm of Daddy Yankee's hit song "Con Calma."
The video shows Celina and Filiberto, known as "Ganas con Canas" on Instagram, performing their dance in front of a crowd, which looks extremely entertained by the movements of the grandparents and their effective coordination and flexibility despite their advanced age.
They wore matching outfits, with Celina rocking a turquoise ensemble of a pantsuit and t-shirt, and Filiberto donning black pants and a turquoise long sleeve shirt.
"Dale es viernes y el cuerpo lo sabe," they captioned the clip. Which translates to "Let's go, it is Friday and the body knows it."
Of course, the netizens' response was immediate, and they quickly filled the video of Celina and Filiberto with praise and compliments for their admirable spirit and contagious energy.
"When I'm old I want to dance like this," commented one user. "I'm dying of love," wrote a young woman. "How nice they are having fun! it proves that age is just a number," commented another user. "This old man dances better than me ...." added another.
It is clear that Celina and Filiberto are not only regular dancers but also true role models. Celina spent a long time in a wheelchair and walking again was a difficult journey for her. However, her passion for dance motivated her to chase her goals.
This is not the first time that Celina and Filiberto have gone viral. They had previously destroyed social media in a video in which they dance in a casino to the rhythm of "Yo Lo Sé," a hit song from reggaeton stars Yomil and El Dany.
They have also appeared on several television shows, including "America's Got Talent." The couple impressed the judges, except for Mel B, on the last season of the popular talent contest show.
Celina and Filiberto did their thing on the famous stage, dancing to Jason Derulo's "Talk Dirty to Me" and earning cheers from everyone in the audience for their daring routine.
They got three "yes" votes from Simon Cowell, Heidi Klum, and Howey Mandell, but Mel B didn't think the routine was appropriate for the elderly couple and buzzed their act.
They advance to the judges cut, but their performance was not strong enough to take them to the next phase, and they were eliminated from the competition.
However, Celina and Filiberto knew how to take advantage of their fame, and they are now featured continuously on radio interviews, morning talk shows, and even attended the iHeart Awards last year. It is clear that this couple is unstoppable, and they keep charming people with their dance moves.
Please fill in your e-mail so we can share with you our top stories!