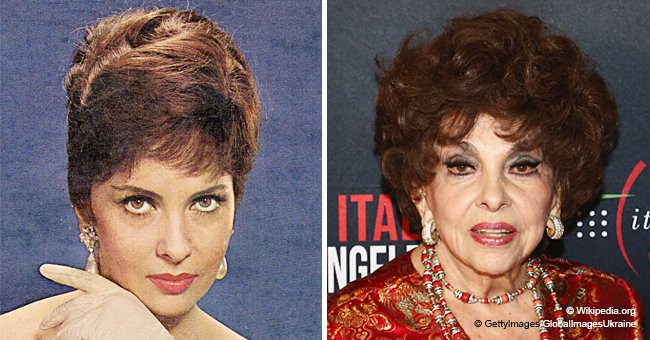 Gina Lollobrigida Refutes Her Age by Looking Just as Brilliant at 91 as She Did in Her Youth
Italian actress Gina Lollobrigida, the sex symbol of the 50s and 60s, now a nonagenarian and still getting praise for her looks and grace.
Born Luigina in 1927 to a simple family in Subiaco, Italy, she enjoyed her life with three other sisters. She joined many beauty contests as a teenager and began taking minor roles in films. After entering the Miss Italia pageant, she received national exposure.
Her mother had a hand in encouraging her to accept more roles on film, but she really wanted a career in the arts as a sculptor or opera singer.
Her ease on camera and stand out beauty made her successful in her early projects, quickly rising into leading roles in movies such as "Fearless Little Soldier" with the well-known French actor Gerard Philippe, bringing her forward on the international scene.
Pretty soon Hollywood took notice, and she was quickly cast in a movie with Humphrey Bogart called "Beat the Devil." The smitten Bogart was heard saying that Gina made "Marilyn Monroe look like Shirley Temple."
More leading men came her way as she starred with the likes of Rock Hudson, Frank Sinatra, Yul Brynner, and Burt Lancaster. But just as in her youth, she was also known to refuse roles, co-stars, and scripts. She reasoned,
"I was successful very early. I never had to ask for what I wanted."
She continued,
"I had more publicity than anyone because I refused it -- I didn't care about it."
And the attention she received from a long line of men was handled in the same manner as well. She was able to turn down many rich and influential men. She married a much older man, a physician named Milko Skofic from Slovenia. They had a son together whom they called Andrea Milko.
When asked about the success story that is her life, the actress, who also became a successful photojournalist and sculptor shared that while she began her film career out of duty to her family who lost everything after the war, she learned to love the art and all the privileges it brought to her personally.
She also shared her view on working,
"I've been really working my entire life. I'm still working. I guess that is the secret. Keep your brain active… Because life is precious. And even now where there aren't so many good situations in the world, I just feel that as long as I work, I'm alive."
Please fill in your e-mail so we can share with you our top stories!