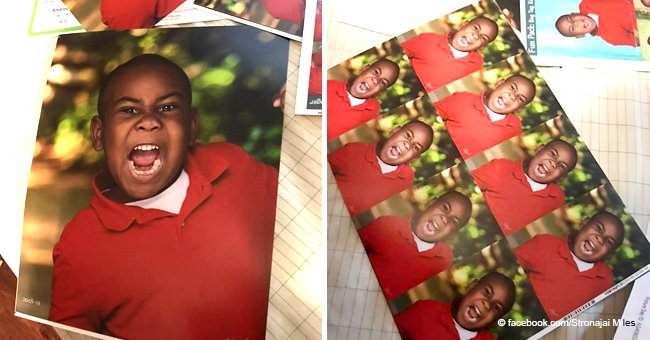 Mother Shares 5-Year-Old's Hilarious School Photo and It's Quickly Going Viral
A five-year-old boy has become very popular after his school photo surfaced on the internet. His comical expression does make for a good laugh! It's the season of school photos!
Parents have to get their kids looking fine for picture day as it becomes a sort of keepsake to look back on as time goes by. Stronajai Miles was one such parents, but boy, was she in for the shock of her life?!
Stronajai was oblivious to her son, Andrew Miles' bold plans to put on a "crazy" face on picture day. The youngster got away with his plans putting on a hilarious expression with his mouth open wide and his face contorted into yeah, a crazy look!
The results made for an amusing photo and it was a massive surprise for Stronajai when she discovered the pictures in Andrew's school bag. Shocked and a bit miffed, the Georgia mom took to Facebook to vent her frustrations.
Her post has since garnered numerous likes, shares, and comments on social media. She captioned the picture with a lengthy message telling of her confoundedness.
"I'm so mad right now! I checked my son's book bag and found these!!!!"
She also went on to explain that after seeing how hilarious her mother found the photo, she realized that she needs to get "out of the 90s" back when photographers would send proof copies to parents in a bid to get only perfect photos.
Things have changed, and Lifetouch School Photography believes in allowing the children to express themselves through images.
Andrew, a kindergarten student of Woodland Elementary, chose to explore his options making for the unusual photo that is fast going viral. He gave a humorous reply when his mother questioned him.
He merely said:
"Because that was a crazy face!"
The funny comments and sweet words from fellow parents on social media have perhaps lessened Stronajai's anger as she noted that she would frame the photo and keep it for a very long time.
A Facebook user, @Lauri Curry encouraged Stronajai as she wrote:
"Love it! I bet this is his ornery original self; you will look back and laugh someday! My daughter had a pretty bad one too, and I put it up in a frame on the wall....she didn't like it but didn't do that again lol. Thank you for sharing."
Stronajai's ordeal is somewhat familiar with most parents as they encounter such shocking turnouts this season of school photos. A Laura Pyle also shared how her daughter's choice of outfit for picture day resulted in "the best f*** up" she had ever done!
Please fill in your e-mail so we can share with you our top stories!