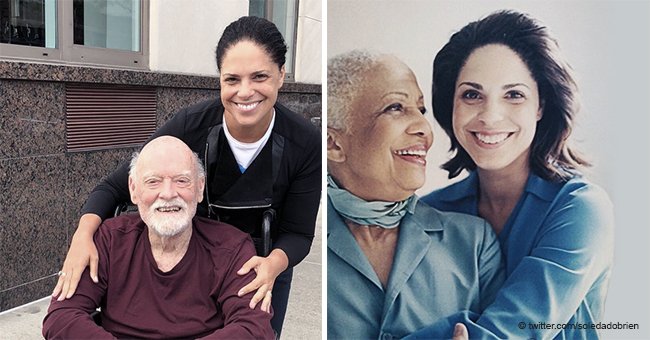 Former CNN Anchor Mourns Her Late Mom Just 40 Days After Her Dad's Passing
Tragedy strikes again for former "CNN" anchor, Soledad O'Brien, as she mourns the loss of her mother, 40 days after her father passed away.
Soledad O'Brien has had a beautiful career as a broadcast journalist, but these days, she is feeling more sad than happy. On Monday, she took to Twitter to share the news of the death of her mother, Estella O'Brien.
Paying tributes to her deceased mum, the television personality shared a series of photographs which she used to depict her mother's life. The first picture showed a young Estella in 1930, wearing a gown with her hair laid back.
The former "CNN" anchor wrote that her mum was an immigrant from Cuba, who left to find a better life. The next picture taken in the early '40s showed the immigrant smiling.
O'Brien pointed out that her mother was sad to leave her home, but had to, as she hated how Castro destroyed Cuba.
The mother of six went back once, and on her return, vowed never to go back. The thread went on to show the deceased parents. The political show host wrote that although her grandparents were poor, they sent her mother to study abroad.
Estella became an educator and stayed with the Oblate Sisters of Providence in Baltimore while in college. The Cuban native also got married to Edward O'Brien in 1959; a time when interracial marriage was not allowed.
O'Brien shared a photo of her parents in 1966, and she is the baby in the picture.
The 52-year-old then described her mother as "Pretty awesome" adding that her greatest wish was to have many young and working women learn from her wisdom.
The broadcaster got a lot of condolences from her followers. One comment read
"… thank you for sharing her story with us," while another read "So sorry for your profound loss."
The educator's death occurred forty days after the mother of four lost her father. Edward died in February at 85, and in a series of emotional tweets, O'Brien talked about his life.
The Harvard alumni described him as a sharpshooter in the army, a professional athlete, and a scientist. The host also wrote that her father was a kind person who fought for civil rights and believed in equality.
Although grieving, the "Matter of Fact" host said she was grateful she got to say goodbye. However, her biggest regret is that the world will miss someone as good as Edward.
The deceased couple is survived by their six children who are all college graduates and doing well in their respective fields.
Please fill in your e-mail so we can share with you our top stories!