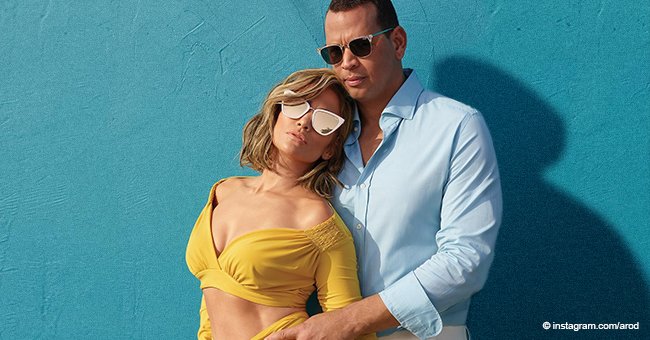 Jennifer Lopez Displays Her Stunning Body with Fiancé Alex Rodriguez
The former baseball star has joined his future wife in an advertising campaign. A sunglasses brand is taking advantage of the J-Rod craze, featuring in their recent photo shoot.
The couple of the moment has collaborated with Australian sunglasses manufacturer Quay Australia, lending their names and images to recent collections. The singer and her fiancé look great together in the photos, as usual.
Both Lopez and Rodriguez took to their Instagram accounts to share different images from the campaign promoting the Quay X JLO collection and the Quay X ARod collection, and the singer flaunted her toned body on them.
QUAY X
In one of the pictures, with a serious '90s vibe, the soon-to-be husband and wife are wearing all-white ensembles. Lopez wore high-waisted wide leg pants and a strapless bandeau crop top that showed her defined abs and arms.
In another picture, Lopez is wearing a two-piece figure-hugging dress in mustard yellow, with a generous cleavage and a cut that leaves her abs visible. Needless to say, the couple is wearing their namesake shades in both images.
"Everything that we do, we do together. He knows my dreams and I know his dreams, and together we feel like we're stronger."
"You guys know that I'm ONLY about things that I really love, and if you know me you know that @quayaustralia has become one of those things. They have literally become part of my daily life and Alex's too. I am SOO excited to share our collaboration that we've been working on."
-Jennifer Lopez, Instagram, March 20, 2019.
The brand's official Instagram account shared the sexiest of the takes from the campaign, featuring Lopez on her own sitting on top of a red convertible car wearing a mini black sequin dress with a low-cut neckline.
The "Dinero" singer shows her beautiful legs as she looks at the camera with her $60 black/smoke fade sunglasses.
WORKING TOGETHER
The Quay Australia campaign is the first major one on which the couple is featured together, and it will continue for the remaining year. Lopez has been associated with the brand since 2015.
In a press release, Lopez and Rodriguez expressed how satisfying it was for them to embark on this project together.
"Getting to do this with Alex was a big bonus too. He loves sunglasses as much as I do," the 49-year-old entertainer said.
"It was really special to be able to shoot in Miami with Jennifer, she was the one who introduced me to Quay Australia," added Rodriguez.
THEIR ENGAGEMENT
Even when the world was desperately waiting for the couple to take things to the next step in their two-year relationship, the announcement of their engagement via Instagram on March 9 has shaken us all.
The very expensive diamond ring Rodriguez gave Lopez was the subject of much coverage. And now, the couple has opened up about the entire thing in an interview for People magazine.
"Everything that we do, we do together. He knows my dreams and I know his dreams, and together we feel like we're stronger," Lopez said.
"We're constantly supporting each other in our individual endeavors and thinking about all the things that we can build together," she added.
"We're really happy. We have [an] appreciation for where we are in our lives today, and that's what we're enjoying the most," added Rodriguez.
Please fill in your e-mail so we can share with you our top stories!