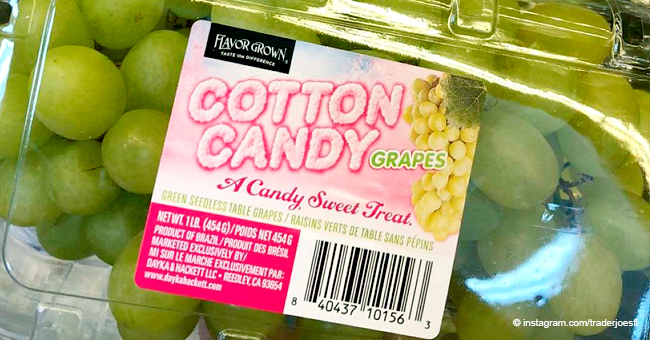 Cotton Candy Grapes Are Back in Stores
Supermarkets are once again stocking Cotton Candy Grapes in their produce sections.
Trader Joe's in Florida recently announced the return of these sweet treats on Instagram, saying, "Yes, they are back! Cotton Candy Grapes. Tag a friend who would love these."
Much like ordinary grapes, Cotton Candy Grapes boast all the health benefits and nutrients.
Meanwhile, a local open-air market, Talarico's Produce LLC, also took to Instagram to clarify how these grapes are the result of selective plant breeding.
"IT'S NOT A GMO"
"A fairly new breed of green grape that tastes like cotton candy," according to Talarico's Produce LLC. "No it's not a GMO or genetically engineered it is simply the product of some rigorous good old fashioned plant breeding."
It seems like Cotton Candy Grapes are available everywhere now. Woodmans Food Market wrote on Twitter that it also had the grapes available for purchase.
These grapes aren't only well known in America. You can also find them at the local stores in Australia.
BENEFITS OF THIS UNIQUE FRUIT
Much like ordinary grapes, Cotton Candy Grapes boast all the health benefits and nutrients. They can regulate blood sugar, alleviate inflammation, boost brain function, fight bacteria, and may help prevent cancer.
They are low in calories, high in vitamin K and vitamin C alongside numerous other necessary micronutrients. These grapes additionally contain some iron, magnesium, phosphorus and vitamin A.
However, the real reason that individuals go to markets to buy Cotton Candy Grapes is their extraordinary flavor.
HISTORY OF THE HEALTHY SNACK
The company behind Cotton Candy Grapes is Grapery, which has been raising grapes since 1996 in the Kern and Tulare counties of California.
Using cross-breeding techniques, Grapery mixed the flavors of the Concord grape with the basic grape vine to make a totally new type of grape with an absolutely exceptional flavor.
Cotton Candy Grapes became accessible for shoppers to purchase in 2011.
Please fill in your e-mail so we can share with you our top stories!