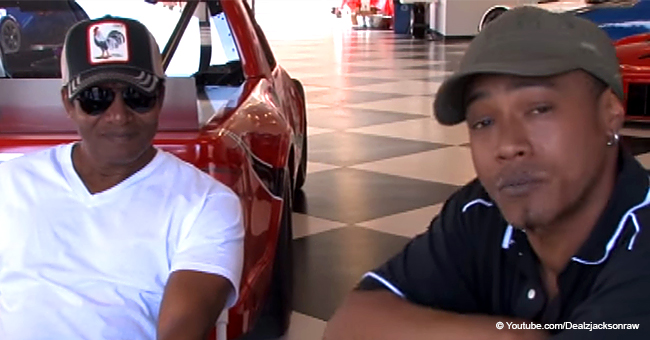 Jackie Jackson's Son Siggy Slams Critics and Defends MJ's Daughter after Alleged Suicide Attempt
Paris Jackson finds an ally in her cousin, Siggy Jackson who recently defended her from claims she committed suicide. He shared a story on his Instagram as a clap back at her critics.
In the midst of news that his cousin, Paris Jackson allegedly tried to commit suicide, Siggy Jackson, aka Jackie Jackson's son rose to defend her.
THE CLIMATE AFTER THE RELEASE OF "LEAVING NEVERLAND"
The documentary "Leaving Neverland," painted a sour picture of music legend Michael Jackson that it spun a new wave of controversy surrounding his alleged child abuse. It's an old wound that's been torn open after his accusers, Wade Robson and James Safechuck admitted to being sexually abused by the late singer while spending time in his home in Neverland when they were kids.
The documentary's premise spread like wildfire and opened up new questions about Michael's past and his children are now forced to face the backlash as adults. They were not even born when Michael was first on trial for the same allegations back in the 90s and were mere youngsters in 2005 when he was acquitted of all charges in relation to child sex abuse.
PARIS' ALLEGED SUICIDE
The most affected of Michael's three children is reportedly his only daughter Paris Jackson. Last week, reports surfaced that she attempted to kill herself by slashing her wrists. The 20-year-old was reportedly rushed to the hospital but was released a few hours later when she opted to be brought to another hospital for treatment though she never did.
HER DENIAL
However, while many would easily believe the actress is capable of slashing her wrists since she admitted to several attempts in the past, Paris shut down the story by denying the suicide attempt. Calling the rumors lies, Paris also defended herself from accusations she wasn't speaking up to defend her father by saying she has "in my own way."
A STORY ABOUT PARIS ACCORDING TO SIGGY
Paris also found another ally in her cousin who spoke up to defend her against the suicide claims. Siggy Jackson accused the media of fabricating a story about his cousin for the sake of coming up with one. So he clapped back at her critics with a story of his own.
"Once upon a time my uncle had a beautiful daughter who grew up to mind her own [explicit] business and live her life on her terms. Her family has her back and finds you all disgusting. The girl was one of the first to welcome my wife into the family and was her bridesmaid when her own friends were too jealous to stand next to her. Instead of being entitled the young lady works and spreads love n peace. The end. #mindyourown[expletive]buisness we love you Paris."
ON WADE ROBSON AND HIS LIES
Siggy is the son of Michael's brother, Jackie Jackson. Along with his story, he shared a photo of his family with Paris in what appeared to be his wedding day.
He also took a swipe at his uncle's accuser, Wade Robson during an interview in Power 106. He accused him of lying and capitalizing on his history with Michael.
"He [Robson] started off by lying to the public, then retracted, then threw out another lie, then retracted and then said I'm going to write a book, then the book flopped and then said I'm going to sue the estate and it got thrown out of court."
Addressing Wade's claims in the documentary that he had a mental breakdown due to Michael's abuse, Siggy insisted, "Wade [Robson] didn't have a mental breakdown, he had a financial breakdown."
The Jackson family has been coming from all sides defending their late relative's honor from the allegations presented by the documentary. Michael's brothers in an interview slammed the film and deemed it financially driven. They also paid tribute to him during a recent show in Brazil.
Please fill in your e-mail so we can share with you our top stories!