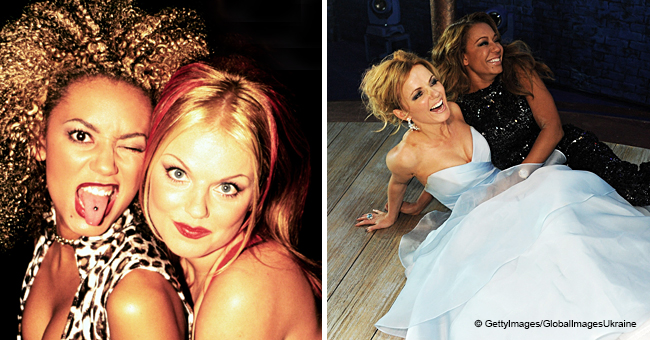 Spice Girls Mel B Said She Had Sex with a Bandmate

Mel B, the British TV personality and one of the members of the girl group Spice Girls, revealed during an interview with Piers Morgan that she and bandmate Geri Halliwell slept together.
The conversation took place during Morgan's show "Life Stories." Since several rumors claimed that Mel B and Halliwell were romantically involved during their time together in the band, Morgan took the chance to ask the tricky question.
However, the singer was trying to avoid answering it. The man pressed her saying that she went to the show to be "brutally honest," quoting the title of her book published in November last year.
GIVING A SHOCKING REPLY
"Did or didn't you sleep with Geri Halliwell? Did you sleep with her?" asked Morgan. After saying that Halliwell had "great boobs," Mel B tried to play coy again as she said that all members of the Spice Girls slept in a bed together, "but not like that."
Another member of the Spice Girls, Mel C, was in the audience and said that she didn't know anything and that it was all "new" to her. She was laughing, though, which might suggest that it was a sarcastic comment to try to stay out of the controversy.
CONFIRMING THE RUMORS
After a while, Mel B surprised everybody by nodding her head yes and adding that Halliwell was going to hate her for revealing such a thing because "she's so posh in her country house with her husband."
Even though such an announcement shocked the world, Halliwell has not said anything about it. It is not certain when it happened, though, as the clip didn't reveal much about the conversation Mel B and Morgan had.
GETTING BACK TOGETHER FOR A NEW TOUR
In November last year, the Spice Girls announced that they would get back together for a new tour. The shows are set to begin on May 24 in Dublin and end on June 15 in London.
"Did or didn't you sleep with Geri Halliwell? Did you sleep with her?"
It is unclear if they would add more dates to their schedule along the way. The last time the group performed together was at the 2012 Summer Olympics' closing ceremony at the Olympic Stadium in London.
MISSING ONE MEMBER OF THE GROUP
One of the major disappointments in this new reunion is that Beckham will not be part of the shows due to other commitments. Thankfully, her decision has not deteriorated the relationship the Spice Girls have.
Last November, Halliwell explained that they all care for each other and that they knew already Beckham would not join them because she "has moved on" already as she is focused on her fashion and other businesses.
With or without Beckham, the "Spice World – 2019 Tour" is expected to be a huge success, especially now that Mel B shared that she and Halliwell had sex back in the day.
Please fill in your e-mail so we can share with you our top stories!