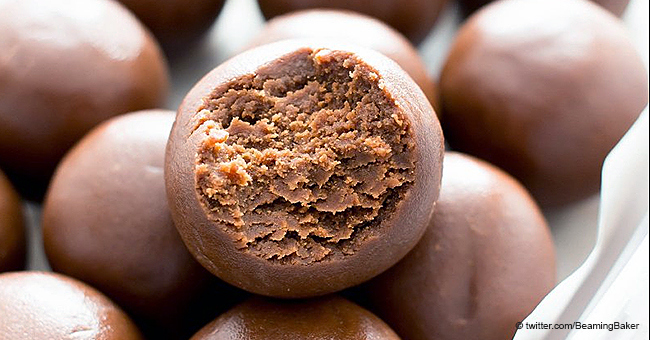 These No-Bake Chocolate Peanut Butter Energy Bites Will Help You Get through the Workday
Sinfully delicious, energy-boosting chocolate and peanut butter bites, an indulgence that is actually good for your body, and so easy to make.
Chocolate is now a superfood, rich in protein and antioxidants that are good for you, especially when you stick to the dark kind. And it has a growing list of health benefits like decreasing the risk for heart failure, lowering blood pressure, lowering stress levels, and even managing insulin resistance.
Peanut butter is high in protein, healthy oils, and nutrients that are good for your heart. It also helps you stick to your diet because it makes you feel full longer, due to its high fiber content. A natural source of protein, peanut butter can help build and repair muscles, making it a good snack option for people who need a quick fix in the middle of the day, or after working out.
One great way to combine these to simple yet nutrient-packed ingredients is to use them in an easy no-bake recipe.
This "No Bake Chocolate Peanut Butter Energy Bites" from the Beaming Baker, offers a high energy, healthy option to mid-day snacking, that is as easy to make as it is to take along.
Ingredients
1 cup natural, unsalted creamy peanut butter
⅓ cup pure maple syrup
⅓ cup coconut flour
¼ cup unsweetened cocoa powder
Procedure
Combine all the ingredients into a mixing bowl and whisk them together until it feels thick and heavy. Switch to a spatula to make sure it all binds well.
Prepare a baking sheet lined with parchment paper. Next, make small scoops the mixture and drop gently, one at a time, onto the lined baking sheet, and chill in the freezer for 20 to 30 minutes.
Once the energy bites are firm, roll them into balls. The warmth of your hands will smooth them out. Eat immediately or store in airtight containers for one to three weeks.
"Snacking smart" will help you stick to your diet and work out plan. Making the snacks at home will take it a step further ensuring that it contains the healthiest and choicest ingredients.
Please fill in your e-mail so we can share with you our top stories!