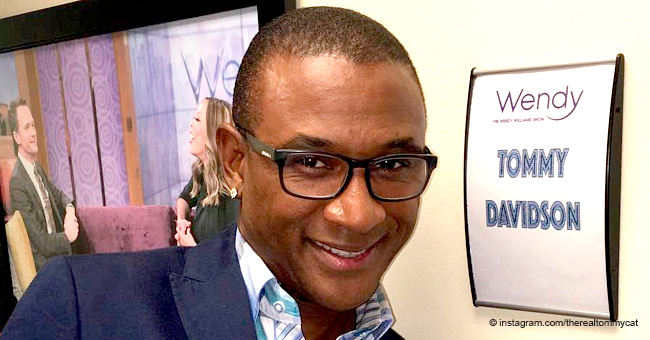 Remember Tommy Davidson from 'In Living Color'? His Mother Dumped Him in Trash When He Was a Baby
"In Living Color" Star, Tommy Davidson says his biological mother tried to kill him when he was a baby.
"I was abandoned in the trashcan, and my Mom found me and raised me," Davidson says about how he got adopted by a white family.
American Comedian, Tommy Davidson reveals that he was dumped in a trashcan at 18-months-old but luckily for African-American baby Tommy, he was found by a Caucasian family who decided to take him in.
On "TheGrio," a YouTube Channel that bothers on issues relating to Black Americans in light of social justice, politics and racism, Davidson speaks about his life as an adopted black boy in a racist environment.
The comedian and his family moved from state to state before they finally settled down in Washington DC in 1968, shortly after Martin Luther King Jr. died. A move the 55-year-old actor describes as being risky because of King's death.
Being a person of color in DC at that time when racism was prominent in America was not favorable but Davidson got good love. He describes the affection he got from his adoptive parents during that time as one that "had no color." As a black boy in a community of whites, he had it easy.
The ease enjoyed by the comedian at the time contrasted with what many other "blacks" faced and their pain coupled with what was going on at the time, made him understand life and race.
Davidson says his exposure to what being "black" or "white" was, went on to shape his comedy sixteen years later when he began his career.
Many years after, Davidson says he has come to know that race is not a thing and he does not believe in it. He preaches the idea of a "human family," which sees people as members of the "human family" and not people from different races.
The comedian uses his traveling program, Vacation Creation to help people see the "human family" around the globe as he travels with several families to different parts of the world.
The "In Living Color" star "from the trashcan" now gives all the love he got as a child to people in the society through his kind acts. Saying "You do not need a World War 2 to do it," he encourages people to do the same at any chance they get.
If there was a quote about good things coming out of trashcans, Davidson would be the perfect brand ambassador!
Please fill in your e-mail so we can share with you our top stories!