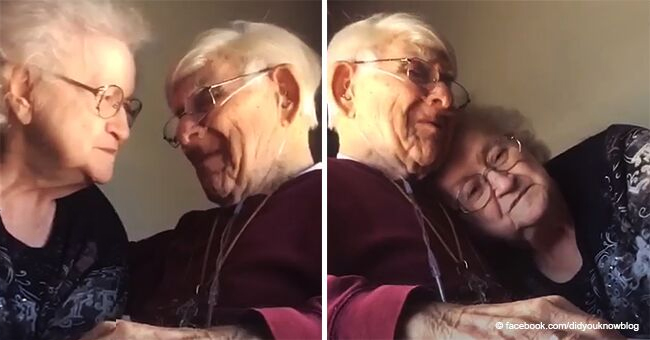 Emotional Video of an Old Man Serenading His Wife with a Touching Song on Their 70th Anniversary
For their platinum wedding anniversary, Martin Napolitano serenaded his wife of 70 years while they hugged each other, touching millions of viewers when the video goes viral.
A sweet moment of couple Martin and Rose Napolitano was captured by family on video. They were celebrating their 70th wedding anniversary, and in a romantic gesture, Martin sang the song "You and Me Against the World" by Helen Reddy.
Rose fondly quizzed her husband asking,
"How many years this year?"
Martin replied,
"It's going to be 70 years."
Rose confirmed it was saying, "70 years, yep," before cozying back into his arms.
Martin was heard saying,
"We did it, honey! We did it. Our grandchildren are proud we did it. 90 and 91 -- we did it. We did it right to the top."
The song lyrics perfectly captured the touching moment.
"And when one of us is gone,

And one of us is left to carry on,

Then remembering will have to do,

Our memories alone will get us through,

Think about the days of me and you,

Of you and me against the world."
The precious moment took place on June 15th, 2016. Martin sadly passed away on October of that same year.
Veterans Madge and Basil Lambert also made it to their 70th wedding anniversary. They are both 95-years-old and have come a long way since meeting each other during the Second World War.
They remember their first meeting, through a common friend named Mack, like it was yesterday with Mrs. Lambert saying,
"I needed a stamp so I asked Mack and he said he did in his room. I went back with him, and there was Basil reading something with his feet up on a little table. He didn't even acknowledge me until right at the end. It was very rude."
Mr. Lambert made up for his rudeness by asking her out to dinner, and the chemistry was instant. Soon it was time for him to leave for a new posting in Vietnam, so they promised to write to each other every day until they were reunited in England.
They both feel blessed that they made it this far saying,
"We're incredibly lucky to have got this far, I think that's what you could call it – luck because we haven't done anything different to anyone else."
Please fill in your e-mail so we can share with you our top stories!