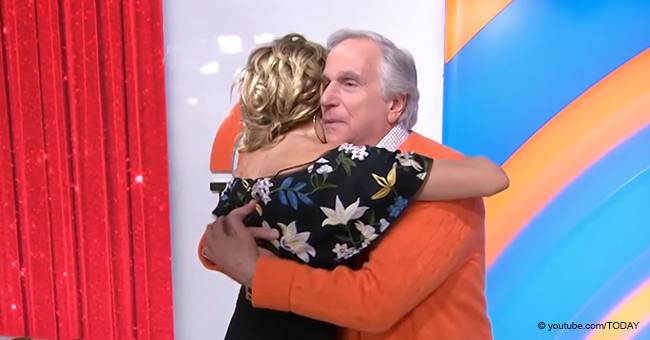 Henry Winkler Makes Unexpected Appearance on 'Today' Show to Say Goodbye to Kathie Lee Gifford
Kathie Lee Gifford is ready to take her final bow on the "Today Show" after eleven years, and her friend Henry Winkler drops in to say goodbye.
Celebrating Kathie's last week on the show, Hoda Kotb and the team planned to surprise her with a few "mystery guests." Kotb proceeded to give clues about who was coming on the show saying,
"Today we have somebody who always makes our days 'happy', in fact, this person is a regular around here, and Kath you used to say 'maybe we should get a cot for this guy!'"
And right on cue, out came Henry Winkler, who gave his friend Kathie lots of love and a big hug.
The trio discussed how Henry and Kathie first met on "Live With Regis and Kathie Lee," and that they hit it off immediately.
But it wasn't just Hoda who did all the surprising, Kathie turned the tables on her and found a way to do something special for her dear friend.
For their final run of the "Favorite Things" segment, Kathie inserted a gift for Hoda in the line up of items. As Hoda unveiled the item, she burst into tears because it was a beautiful mother and child portrait of Hoda and her daughter Haley Joy, with a message written in the bottom which read,
"My joy is non-negotiable."
This quote was a significant part of the moment in 2017 when Haley Joy came into Hoda's life.
The two have nurtured a precious friendship off-camera that viewers loved to witness and feel a part of. And it was fitting that Kathie Lee honored it with a parting gift.
Kathie introduced her present with sweet words for her co-anchor and friend saying,
"What do I get my Hoda, for eleven years of being, the joy and honor of sitting next to you."
Please fill in your e-mail so we can share with you our top stories!