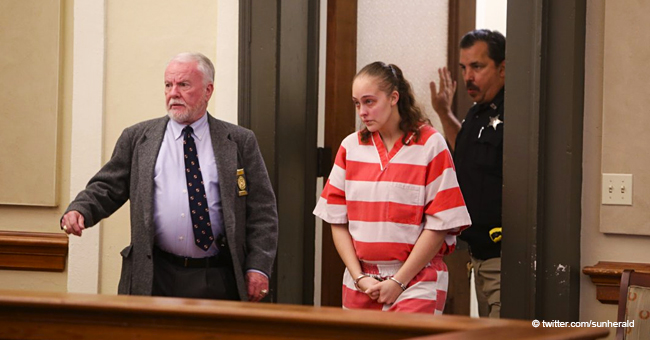 Former Cop Chokes Back Tears as She Is Sentenced to 20 Years for Her Daughter's Hot-Car Death

Former Mississippi cop, Cassie Baker, faces charges for culpable negligence manslaughter as she left her child inside a car, until her last breath.
Last Monday, Cassie Barker, a former cop at Long Beach, was sentenced to 20 years in prison for causing her child's death. Barker admitted to having left her 3-year-old in the car while attending to her own needs.
According to police reports, Barker left her daughter, Cheyenne Hyer, inside the patrol car for four hours, while she had sexual intercourse with one of her supervisors. The former police admitted to falling asleep after having sex, forgetting that she had left her toddler waiting for her.
Cheyenne was found unresponsive with a temperature of 107 degrees.
Judge Lawrence Bourgeois told Barker, 29, that she has failed to "protect and serve" as a mother. Furthermore, he said:
"You left your own flesh and blood in that car while you were in an air conditioned house to have sexual relations."
"I don't know what I could ever do to you that could be worse than what you've already experienced," he added.
"You will forever be entombed in a prison of your own mind."
Barker just held back her tears as she knew she was at fault, and due to her negligence, she lost her child.
Ryan Hyer, Cheyenne's father, was furious at the courtroom and said that to punishment could ever bring justice to his child. He said:
"I was starting to get mad when I was starting to hear some of those things. I took care of Cheyenne. From daycares, to picking her up, to feeding her, to dressing her."
"I can't change what happened," he added.
Hyer also mentioned that his child's death could have been prevented. As any father would be, he was very mad and asked the judge to sentence Barker to prison for the longest time possible. He said:
"You lose your child, I don't think there's no amount of sentencing or time that could make up for that. But this is how the justice system works. With what the judge had to work with, I'm happy that he gave her the max that was allowed by law."
The Sun Herald also reported Hyer's sentiments about his daughter.
"When it was time to view her fragile body, I kept telling myself to be strong," he said.
"However, I broke when I saw my beautiful, sweet, funny and innocent angel laying in that casket. I just wanted to pick her up and hold her up and hold her and hold her and tell her, 'Everything was going to be OK, Daddy has you,'" he continued"
Barker later revealed that she and Hyer have not spoken since 2016 and that he was not as close to their child. She said:
"He doesn't even know what her favorite toys are."
Barker is now serving her time at the Hancock County Adult Detention Center, even if she is three months pregnant. Damian Holcomb, her attorney, said that Barker plans to put her baby up for adoption after birth.
"We were told there are a million people who have babies while they are in prison," he said.
"The way it works is once you are medically cleared you go back to whatever prison you are supposed to go back to."
Similarly, Brittany Renee Borgess was caught in the same situation. She left her boyfriend's 4-year-old child while she went to work for six and a half hours. The child died within those hours in a sweltering SUV. However, unlike Barker, Borgess was only fined with $25.
Please fill in your e-mail so we can share with you our top stories!