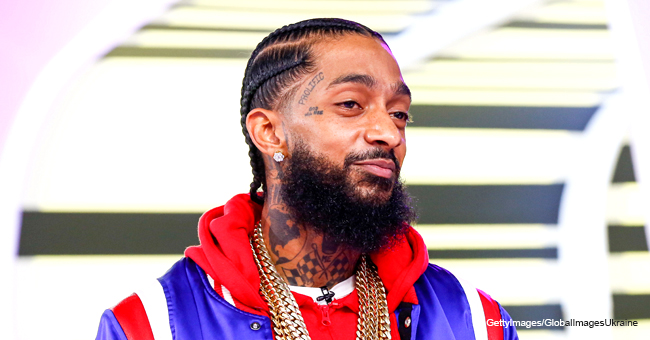 Nipsey Hussle's Brother Opens up about Their Final Moments Together and Attempts to Save His Life

Nipsey Hussle's brother, Samiel Asghedom rushed to his side after he got shot and despite there being "no reason from him to still be breathing," he tried to save his life.
When Samiel got the panicked phone call on Sunday afternoon, he rushed to the premises of his late brother's clothing store from his grandmother's house.
He ignored the red lights down Slauson Avenue as he raced to the scene and arrived before the paramedics showed up.
As Samiel got to his brother, he wondered how Nipsey was still breathing. Blood stained his shirt, and a hole marked where one of the bullets entered one of his legs. Samiel could hear the air as it rushed in and out of Nip's nose.
Amazed that his brother was still alive, the thought crossed Samiel's mind that his brother might make it through.
The two grew up in turf claimed by the notorious Rollin' 60s Crips gang, and Samiel had often helped his brother to uplift the community and put a stop to gangs in the area over the last few years.
Samiel had seen death up close, but as his brother laid in front of him bleeding out, it would be the way it happened that now haunts him most.
However, all he wanted at the time, was to keep his brother alive. While on the phone with a 911 operator who told him what to do, Samiel began chest compressions. By the time he reached 20, ambulance sirens could be heard approaching fast.
It wasn't until paramedics lifted him off the pavement and onto a stretcher that Samiel became aware of the full extent of Nipsey's injuries.
A bone-chilling scream came from the crowd as a bullet wound became visible on the back of his head.
On the way to the hospital, Samiel started praying. The ambulance arrived ahead of him, and doctors gave him a wide berth, so he approached a paramedic that helped Nipsey.
"I know who he is, I'm a fan," Samiel recalled the paramedic's words. "I respect what he was doing in the community. We tried our hardest."
Since the tragic incident, Eric Holder got arrested and charged with murder. Surveillance footage from surrounding businesses captured the shooting and identified him as the shooter, whom only minutes earlier left Nipsey's store after they spoke and shook hands.
"It's mind-boggling," Samiel said. "It doesn't make sense that somebody from the area, that just snuck up, and just talked to him and shook his hand minutes before."
Eric's motive is still unclear, and it has made it hard for Samiel to come to terms with his brother's death but now focuses on the preservation of his brother's legacy.
On Wednesday, Nipsey's long-time girlfriend, Lauren London spoke out for the first time since his murder on Sunday. The couple first got together in 2013 and also share a two-year-old son, Kross.
In an emotional tribute to the late rapper, Lauren posted a gallery of images on Instagram and wrote that she is "completely lost" after Nipsey died.
Other celebrities like Jennifer Lopez responded with words of support. "Sending you love and praying for God to give you and your family all the strength you may need during this time ♥️♥️♥️," she wrote.
The singer Ciara also wrote some beautiful words to Lauren, "May God be with you every step of the way along with him in Heaven. We are all lifting you and your family up in prayer at this difficult time. Stay strong mama ❤️."
Eric Holder appeared in court on Thursday where the L.A. County D.A. charged him with one count of murder, another count of possession of a firearm and two counts of attempted murder. Bail also got set as well as his next court date.
Please fill in your e-mail so we can share with you our top stories!