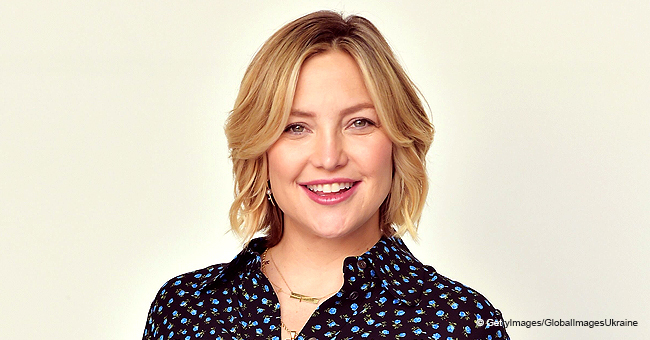 Kate Hudson's Son Is Just a Carbon Copy of Kurt Russell Though They Aren't Even Blood Relatives

Kate Hudson enjoyed a family vacation in Greece while she was pregnant, but there was one thing that stuck out in a picture she shared on social media.
Hudson, 39, was joined by her boyfriend Danny Fujikawa, with whom she shares her first baby girl Rani Rose, born October 2, 2018.
Hudson's famous mother, Goldie Hawn, her stepfather Kurt Russell, and her brother Oliver were also enjoying their vacation in the hot sun.
Her two sons, Ryder, 14, and Bingham, six, also joined in on the fun. Hudson shares son Ryder with former partner Chris Robinson, and he has no blood relation to Russell.
Still, the two looked very much alike in a shot taken of them as they sat on a boat. Both Ryder and his stepgrandfather wore black sunglasses and looked into the distance. The photo is found below.
Somehow, even their jawline was similar, not to mention their facial expressions. One person suggested that because the pair hang around together so much, they started looking alike.
Another person put it in a sweeter way saying it "must just be the love that bonds the looks." Hudson and her stepfather, who has been around since he married Hawn in 1983, are already very close.
Hence, it makes sense that the little ones have also developed a tight-knit bond with their step-granddad. In a podcast interview with "Divorce Sucks! with Laura Wasser," Hudson spoke about the importance of family in her life.
The Fabletics co-founder revealed her way of making sure she handles co-parenting in a way that is best for her kids. Her mother, Goldie Hawn, was the one who gave her the advice.
She said:
"The one thing that I learned from my mom is that no matter what you're feeling and no matter what — when I see my friends talking s— about their ex-spouses in front of their kids, I get so upset because they don't recognize how much that affects their child and how resentful their child will become of them."
Hudson further explained: "No matter what, I never heard a bad word about my father." She was referring to her blood father Bill Hudson. She also said that since her kids have their own relationships with their father, they should be allowed to "come to [the situation] on their own terms."
Hudson's boyfriend Fujikawa also seems to be a big family man. The actress shared the sweetest of videos in October of him kissing newborn Rani at the time.
Rani looked to be quite content as her father looked down at her while Patty Griffin's "Not Alone" played in the background. The moment melted hearts and is a testament to the joy the family shares by putting the kids first.
Please fill in your e-mail so we can share with you our top stories!