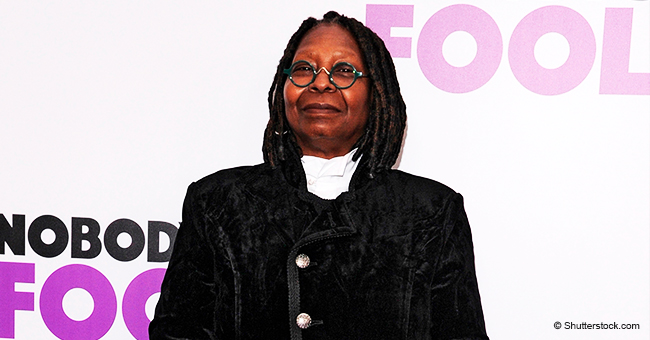 Whoopi Goldberg Reveals She Was Hospitalized Again a Month after Suffering from Pneumonia

Whoopi Goldberg had another health scare last week which she spoke about upon her return to "The View." It was the host's second health scare in almost as many months.
The talk show co-host seems to be doing just fine after she was hospitalized for the second time this year. The video update from "The View" is found below.
On Monday, Goldberg revealed that she missed last week's segment due to a "bug," but didn't go into much detail about the illness.
Still, the 63-year-old seems all better for now and said as much on the show:
"I am here. I'm much better. I'm much, much better. I had a 24-hour bug, which landed me back in the hospital last week, which is why I missed y'all on Thursday."
She continued:
"But, you know the bug came and went. It's gone. I seem to be doing well. I'm here!"
The audience was happy to see the outspoke host back as they applauded the positive update. Goldberg then shifted the attention to the "hot topic" of the day.
The TV personality was just in the hospital in February for a serious case of double pneumonia which had escalated into sepsis. She missed over a month's worth of appearances on "The View" at the time.
On March 8, she released a video update to fans informing them about the situation. Many were worried for the host, as were some critics who typically speak against her.
She said:
"I had pneumonia, and I was septic. Pneumonia in both lungs, which meant there was fluid and all kinds of stuff going on, and yes, I came very, very close to leaving the Earth."
She continued:
"Good news, I didn't. Thank you for all of your good wishes, all of the wonderful things that people have been saying. Even people who aren't huge fans of mine have actually been saying nice thing about me."
When Goldberg returned to the show on March 14, she described how she underestimated the situation at first, thinking she could just "keep going, keep going."
She encouraged listeners to "really take care of yourself" before adding:
"The scariest moment was hearing my doctor say to me, 'You do realize how close to death you were?' That was like, 'Uhhh actually, no, I hadn't thought of it.' He said, 'Well, you need to think of it. You need to be really clear about what this is.' "
We're glad to see the actress back in business on "The View" and doing, or saying, what she does best. That includes giving her take on controversial political matters such as the current issue with Joe Biden.
The 2020 presidential candidate and former Vice President is in hot water as a result of his past behavior involving inappropriate touching of a former candidate as well as little girls.
Lucy Flores, a Nevada Democrat, claims Biden rested his hands on her shoulders, smeller her hair, and kissed the back of her head slowly in a way that was uncalled for. Yet Goldberg said he's just "a hands-on kind of guy."
Her co-hosts agreed with her for the most part. Joy Behar said we should "accept" Flores' discomfort but that the situation doesn't reach the level of being a "MeToo moment" or make Biden comparable to people like Harvey Weinstein.
She recalled meeting Biden and said she was "so friendly, [and] a close talker." Goldberg also called him "a toucher."
When co-host Sunny Hostin suggested that we won't "see any more smelling of hair and kisses on the forehead" from Biden, Goldberg said she "[doesn't] want Joe to stop doing that."
Please fill in your e-mail so we can share with you our top stories!