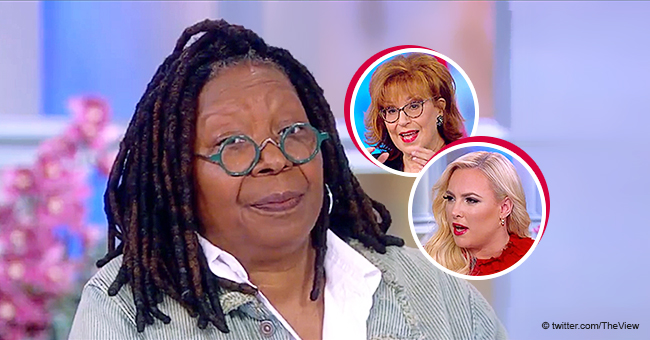 Whoopi Goldberg Steps in as Meghan McCain Slams Joy Behar: 'Part of Your Job Is to Listen to Me'
Meghan McCain and Joy Behar are always having conflicting views on topics and engaging in arguments on the television show, "The View." They got into it again in the latest edition of the show, but Whoopi Goldberg was on hand to stop them before they went any further.
The Monday edition of the television show, The View looked headed for a different time with panelists McCain and Behar having a heated argument.
Whoopi Goldberg was the moderator of the show and didn't let the argument degenerate any further, stopping the two hotheads before things escalated.
Tensions began when the panelists were discussing the resignation of the secretary of the Department of Homeland Security, Kirsten Nielsen, and the appointment of Kevin McAleenan, Customs and Border Commissioner as her temporary replacement.
The discussion led to a debate on what actions the acting secretary should take, leading to further discussions about the Border States.
McCain who originates from Arizona felt that the crisis rocking the border is a "hard line" issue for residents in the Border States.
The 34-year-old said that the crisis is a serious issue and that if nothing is done about it, it would be a win for the government of Donald Trump.
Joy Behar, aged 76, waited for McCain to finish her statement before going ahead to state her view. She said that the best thing for McAleenan to do was to provide support to Central American Countries and keep them happy.
At this point, McCain interrupted, saying that a bunch of liberal guests do not want to send aid at all. Behar chided McCain for interrupting her, saying she waited for her to finish, to which McCain replied that it was part of her (Behar's) job to listen to her.
At this point, Whoopi Goldberg cut in and told the arguing panelists that there was not going to be any arguments as everyone had a right to say their opinion without having to get into an argument.
Whoopi Goldberg was commended for her actions by many Twitter users, who said she did the right thing. The 63-year-old Whoopi Goldberg also said told viewers of the show that she is now okay after having a battle with sepsis and pneumonia which almost took her life.
The illness left the presenter hospitalized, but she is now back in full health and clearly able to stop arguments before they escalate..
Please fill in your e-mail so we can share with you our top stories!