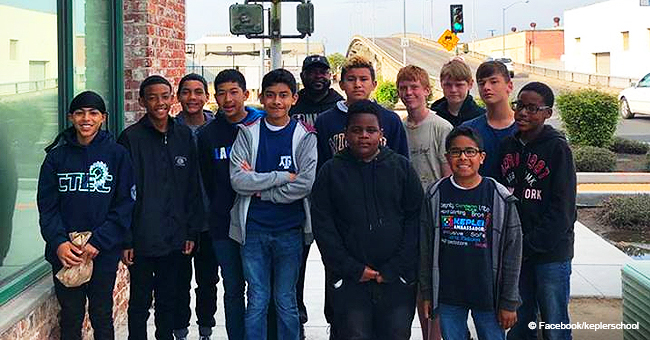 California Youth Volleyball Team Saves Woman Who Was Dangling from Bridge
A 47-year-old woman attempted to take her own life, but luckily, a group of middle school volleyball team boys saved her by distracting her until the police arrived at the scene.
The group of 12 boys which consists mainly of seventh and eighth-graders of the Kepler School volleyball team were working out on Thursday, (jogging over the Tuolumne Street bridge in Fresno, CA) when they saw a woman climb over the edge of another bridge.
"She was, like, one hand and feet hanging already. Crazy, very traumatizing, I never seen nothing like this in my life," one of the students, Brandon Ezell told "NBC News."
The confused kids ran to their coach, Elliot Murray to inform him of what was going on and asked what they should do about the situation. The coach advised that they try to keep the elderly woman distracted for as long as they can while he tries to get help. So, while the woman was hanging on the verge of falling off the bridge, students reminded her that her life was worth it and begged her not to give up.
Elliot who stated how proud he is of his kids, immediately dialed 911 and went to join his students who had started persuading the suicidal women. So for a whole 10 minutes or more, the group did not stop yelling, screaming, and telling her that her life matters. That seemed to have helped because the woman took a glance towards the kids and hearing those words, it probably registered to her that she couldn't do take her life in front of them.
"I'm like a father to them, so to see them do the things that I instilled in them is so gratifying as a coach and as a father figure to them," Murray told "Today."
A spokesperson for the Fresno Police Department confirmed to "PEOPLE" that officers were dispatched to a location after getting a report of a suicidal woman on Thursday. The woman was later taken to a mental health facility for a 72-hour evaluation after officers determined she was a danger to herself. The Police Department also had kind words to say about the students.
"Their words of encouragement caused this woman to realize her life value. Thank God they were in the right place at the right time, " a spokesperson from the department said in a statement to "Today."
Dr. Kevin Gilliland, a clinical psychologist, and director of "Innovation360" (an outpatient resource center) told "PEOPLE" that:
"There are a lot of takeaways here. What they did was that they connected with her and made that personal connection by talking to her. That is disruptive in a lifesaving way."
Along with that personal connection, Dr. Gilliland said it was also "very important that the coach acted immediately and got professional help. When someone tells you that they're thinking about it [ending their life] and they're serious, we have to act quickly."
He also thinks that it's important for the young boys to talk about what they experienced. Members of the team confirmed that the whole experience was something they will never forget, and also said they were thankful to be there to encourage the woman to make the right decision.
Please fill in your e-mail so we can share with you our top stories!