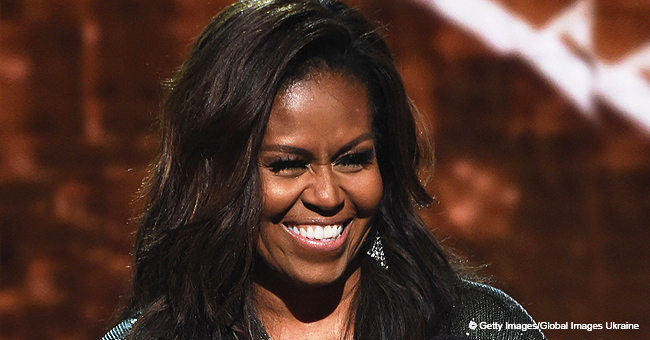 Michelle Obama Rocks Millennial Pink Suit with Crystal Appliqués as She Continues 'Becoming' Tour
Michelle Obama stunned in Copenhagen in a pink suit by a local Danish designer on the European leg of her book tour to promote her memoir "Becoming."
Former First Lady Michelle Obama is on a triumphant tour of Europe to promote her memoir "Becoming," and she is dazzling her audiences with her stylish wardrobe, as well as her literary acumen.
"Becoming" was launched on November 13, 2018, and is a worldwide success, selling millions of copies and garnering critical acclaim.
MICHELLE OBAMA IN MILLENIAL PINK
Michelle, who became famous for her unerring fashion sense throughout her two terms as First Lady of the United States, did not disappoint her Danish audience at Copenhagen's Royal Arena on April 9, 2019.
Michelle donned a stunning pink pantsuit by a local Danish designer as a compliment to her hosts.
Penguin Random House has revealed that "Becoming" is on track to become the best-selling memoir of all time.
STUNNING DANISH-DESIGNED BESPOKE SUIT
The impeccably tailored suit was created by 39-year-old Copenhagen designer Stine Goya, who commented:
"For us, Michelle represents everything we strive to represent through our collections – strength, intelligence, independence, confidence. Her role as an activist, mother, writer shows the multiplicity of the female spirit – we are so honored to have been considered to work with Obama for the European/Scandinavian tour."
The pink suit, lavishly embroidered with crystals retails at $2,300.
MICHELLE OBAMA'S STUNNING ACCESSORIES
Michelle's suit sparkled, but so did her accessories. The former First Lady donned a pair of spiky gold heels that complemented the warm pink of her outfit and wore matching bold gold hoop earrings.
In startling contrast, her nails were lacquered with jade green polish.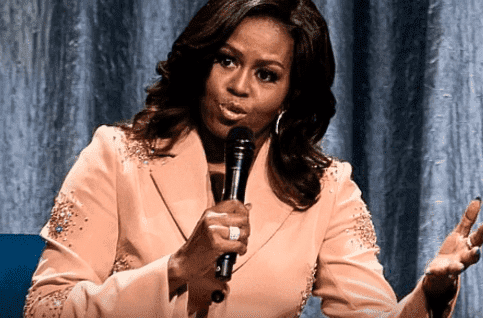 Michelle Obama onstage at the Royal Arena in Copenhagen. | Source: YouTube/ Channel 14
THE BEST-SELLING MEMOIR OF ALL TIME
Michelle's book tour will take her to six European countries, where her memoir is already a runaway success.
"Becoming" made history by selling 725,000 copies in the U.S. and Canada on its first day, and within a week was the bestselling memoir by a First Lady, outselling Hilary Clinton's "Hard Choices."
Penguin Random House has revealed that "Becoming" is on track to become the best-selling memoir of all time.
"Becoming" is the first in a two-book deal that Michelle Obama and former president Barack Obama made with Penguin Random House.
"BECOMING" MAKES MICHELLE OBAMA MOST ADMIRED WOMAN
The launch of her memoir "Becoming" which immediately shot to the top of the bestseller's list has won Michelle Obama the title of Most Admired Woman in the World on the Gallup's annual survey, published on December 27, 2018.
She ousted Hilary Clinton from the top spot which she has held for the past 17 years, former First Lady Hillary Clinton has been ousted by Michelle Obama. Clinton was relegated to third place, and #2 was taken by Oprah Winfrey.
This is former First Lady Michelle Obama first time at the top of a list in which she has been placed #2 for the last four years. Clinton now shares the #3 slot with current First Lady Melania Trump.
Please fill in your e-mail so we can share with you our top stories!