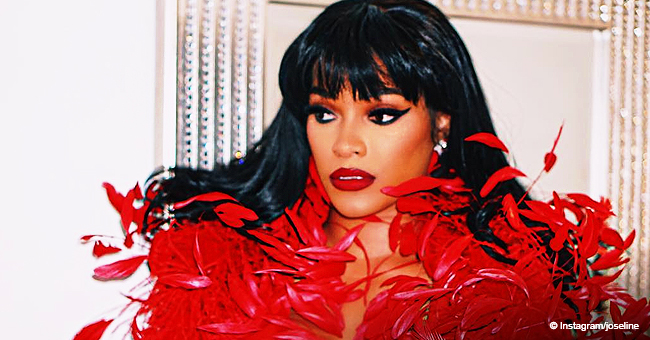 Joseline H. Causes a Stir with New Pic of Daughter after Slamming Stevie J for Being An Absent Dad

Joseline Hernandez shared a picture of her daughter, Bonnie on her Instagram page. The picture caused a stir as some respondents felt the star needs to dress her daughter like a kid. The self-styled princess also took time out to shut down her ex-fiancé's post.
Bonnie wore a pink gown, matched with pink Chelsea boots, accessorized with purple flowers on her head and a gold neck chain. The star captioned the picture which showed her daughter making a face while holding onto a swimming pool safety rubber bag, "don't pull my hair mummy."
Some fans beat the star up about her choice of dress for the toddler and felt Joseline should dress Bonnie up like a kid, but many others commended her for bringing her child up alone and said the child was beautiful. Bonnie was born to Joseline and Stevie J, her ex-fiancé.
Self-Proclaimed Puerto Rican Princess, Joseline Hernandez took another swipe at her ex-fiancé, Stevie J. The latter posted pictures of him spending quality time with his daughters and then referenced 2-year-old Bonnie Bella, the child he had with Joseline.
Stevie may have done all of that in a bid to quash lingering rumors that he is not present for his kids, but his ex was having none of that.
In the Instagram post made by the "Hitman" Producer, three of his children, Eva, Savannah, and Sade were present, and he thanked God for blessing him with them. The television personality then made a reference to Bonnie stating that he will be seeing her in two weeks.
Joseline replied to the post after she saw it and quashed her ex's attempts to be viewed as an ever-present dad. In her reply, the celebrity princess made it known to Stevie and the world at large that her daughter, Bonnie didn't know him.
This is not the first time the Joseline is accusing her ex of being an absent father as she claimed that he neglected their daughter. She is not the only one who feels this way, as Tamara Young, Mimi Faust's girlfriend also labeled Stevie an "Instagram Daddy."
Joseline also claimed that Stevie had not seen Bonnie in a year and didn't even get her anything for her birthday. Her reaction to Stevie's post generated many responses from readers, some in support of her and others against her. One respondent accused Joseline of shutting Stevie down every time and said he would hate to have her as a baby mama. Another who didn't fancy the celebrity's comments asked her to allow Bonnie to know her father if he tried to see her. One more fan asked that she let him be a dad as it is never too late to be one.
For those on the other side of the fence, one respondent felt Stevie was only a dad on social media and never really spent time with his kids, and as such, no one should be mad at Joseline. Another Joseline supporter chided Stevie for being a deadbeat dad and won't have anyone fooled with his latest antics.
Stevie is a father of six children from different women and is currently married to singer Faith Evans. Reports indicate that he married the singer a month after proposing to Joseline, leading to many disputes between the two (he and Joseline) later on.For the sake of the kids, hope remains that all parties come to an amicable solution so that the children can live their normal lives without distractions.
Please fill in your e-mail so we can share with you our top stories!