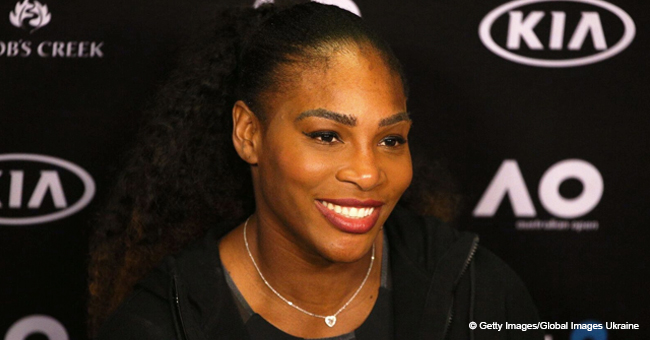 Serena Williams' Daughter Olympia Looks Cute as She Thinks to Herself for a Moment in New Photo
Serena Williams' 18-month-old daughter, Alexis is fast becoming a social media sensation if posts from her Instagram page are to go by. Her latest post is all shades of cuteness filled with humor.
The world can't get enough of Alexis Ohanian Jr., with all of her appearances on social media being cute, fascinating and tinged with some form of humor. She is fast becoming a media sensation.
Her latest Instagram post generated much admiration. In the new post, she is seen thinking to herself with her right hand placed on her chin, and is wearing what seems to be a thoughtful, yet cute facial expression. The image was captioned:
My Momma said: "caption this."
One of the notable comments on the post included that of her favorite doll, "real qai qai," who captioned the image, "Maybe I should get qai qai some shoes….what do y' all think??" to which Alexis' father replied to by asking if dolls wore plastic shoes or real shoes.
The shade room also reposted the image on their page. Serena is almost always with her daughter and does talk to her a lot as seen in some of their videos together.
The tennis champion revealed that she awaits the next step when her charming daughter would be able to talk and reply to her so that they can have two-way conversations. Serena said this while on a phone interview with AOL.
Though Alexis is not yet able to talk, she does find other ways to express herself as she is quite a wild one. Her mother explained just how wild Alexis could be, a trait they both share. However, with the new Pampers' Cruiser "360 FIT," she needs not to worry about Alexis' constant running around.
The proud mom announced that she joined the Pampers family and said the new 360 FIT is a great diaper for playful "wild" children like Alexis and also endorsed the product on her Instagram page.
The mother and her child are so good together and showed this fact again when they twinned with their outfits. Serena wore a pink skirt and white blouse that had a lamb on the upper left corner. Her mini-me, Alexis wore an identical attire, and they looked so gorgeous.
The attires are part of Serena's new brand, "S by Serena," and this is a great way to showcase it. Alexis Ohanian Jr. is the first child of Serena Williams and her husband, Alexis Ohanian.
Please fill in your e-mail so we can share with you our top stories!