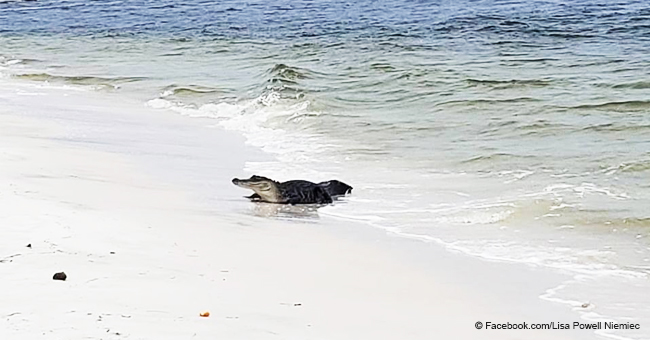 Huge Alligator Makes Unexpected Appearance on a Popular Florida Beach
A family managed to capture an alligator while crawling out of the ocean during the weekend on a Florida beach.
Lisa Powell Niemiec was near the shore of the beach contemplating the ocean when she suddenly saw how a dark creature began to come out of the water, the woman realized that it was an alligator and immediately took her camera and began to photograph it.
"We were fishing and he swam up on us," Niemiec said describing what happened that afternoon of April 6, according to the Panama City News Herald.
She shared photos of the alligator on Facebook and said the images had been taken at St. Andrews State Park, near the Panama City Beach in Florida. In the photos, you can see the reptile emerging from the ocean water and up the sandy beach.
The incredible images quickly went viral in social networks where they were shared thousands of times in a few hours. "I think he was tired because of the current in the pass, and he laid there on the beach for a while and then he swam around Deepwater point into North Lagoon."
Alligators are the largest reptile in North America and although they are freshwater animals that live mainly in lakes, rivers, and ponds, they can tolerate salt water for a few hours or even days, according to the National Oceans Service.
It's been estimated that there are at least 5 million American alligators spread out across the southeastern United States and almost a third of that alligator's population live only in the state of Florida.
According to the Defenders of Wild Life, these animals stop eating in the winter and start again in Spring. They can go for several months without food because their metabolism slows when it gets cold, so the alligators will go without food until conditions improve or Spring arrives.
It is illegal to have an alligator as a pet in Illinois, but it is a well-known practice in other states. Learn the story of a Pennsylvanian woman who adores her pet alligator very much that she spoils it with tiaras and tutus. Supposedly, the pampered reptile also gets manicures and foot massages.
Angela Lance gushed over her four-and-a-half foot pet she fondly calls LillyGator that she dresses in pink clothes, fancy sunglasses, and tiaras
Please fill in your e-mail so we can share with you our top stories!