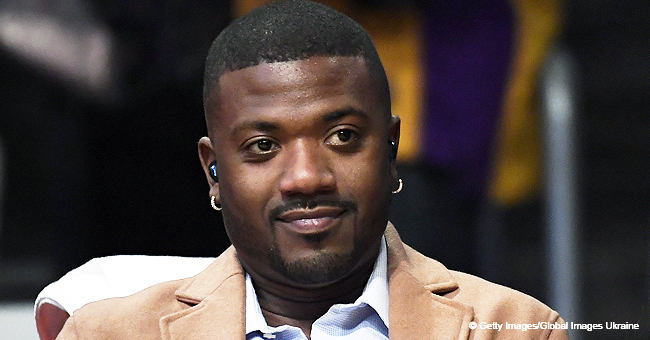 Ray J Melts Hearts with Adorable Videos of Daughter with Beautiful Hair after She Turned 10 Months
She is indeed an adorable 10-months old! The proud father showed off his gorgeous daughter in a post he shared on his Instagram page.
Melody clocked 10-months and her singer father, Ray J was benevolent with adorable memories of her which he shared with his millions of fans on his Instagram page.
Although he posted two clips, Ray was only featured in one. In the first image, the rapper could be seen in a room (looks like the toddler's nursery) with little Melody as she staggered to walk which eventually led to her falling. The little girl didn't stay down anyways, Melody swiftly rose up and continued with her attempt at walking.
In the second one, Melody could be seen sitting alone and smiling into the camera, but this time the toddler had a new challenge; she was trying to pronounce her father's name. After seconds of giving it her all, and to the few unseen people in the room's delight, Melody finally uttered the words "Ray." As soon as she pronounced the word, a voice in the background presumed to be her father's chuckled and said, "she said Ray."
The two videos as expected received quite a lot of accolades from fans who couldn't stop gushing about how excited they were to watch the short clips. Some of the frequently used words were, "absolutely adorable" with a fan going ahead to describe the whole experience as,
"I can watch this a million times...babies are truly a blessing ❤? ?? #notlolabutraaay!!!!"
Seeing all these cuteness, it is evident why actor Ray J has been pushing for another child. During an interview with "Us Weekly," the father of one shared his keen interest in making another beautiful baby with his partner, Princess love.
"I want one more right now; I'm trying right now. I'm trying to get one in, and hopefully, we can have another by April, if it happens. They could be friends and protect each other, like my sister and myself," Ray J revealed at the Nickelodeon Kids'Choice Awards.
The news of the bundle of joy (Melody) was first revealed by Ray during an appearance at the daytime show, "The Real" in 2017. The news was well received by viewers of the show far and wide with joy for the singer and his partner.
But Ray wasn't the only one who was ecstatic about the news and willing to share with his fans, his baby mama, Princess Love also took to social media to share how happy she was to become a mother after having to go through several infertility issues.
"My prayers were finally answered September 15th, 2017, the day I found out I was pregnant. " — Princess Love.
Now Melody is here, all grown and her parents can't wait to give her a little cute sister or brother.
Please fill in your e-mail so we can share with you our top stories!