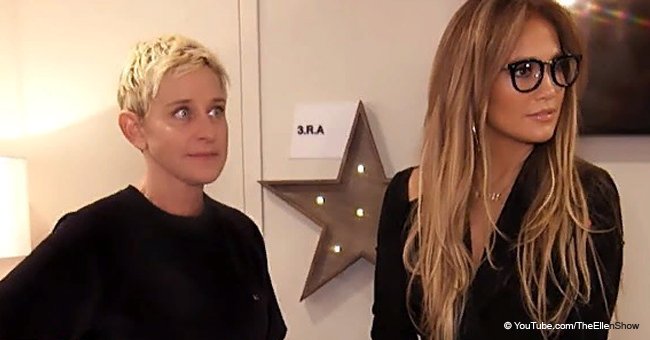 Here's How Ellen Once Stunned Jennifer Lopez by Wearing Her Legendary Green Gown
The talk show host is known for often going above and beyond for both the famous and the ordinary civilians, and she often finds funny ways to do so.
Ellen DeGeneres made an appearance at a Jennifer Lopez concert in Las Vegas some time back, but she didn't just pitch up and watch from the crowd.
She devised a plan to become the singer's double so that she could take the stage in Lopez's place. Her plan was hilarious because her outfit was the complete opposite of what she usually wears.
Lopez is known for her daring and revealing outfits that she dons from red carpet appearances to hot dates with her beau, Alex Rodriguez.
So in order to pretend to be Lopez, DeGeneres would have to dress like Lopez.
The tomboyish DeGeneres, who is usually in a pantsuit, raised eyebrows when she walked in wearing a replica of Lopez's famous sexy green gown that she once wore on the red carpet.
DeGeneres had hoped somehow that this seductive number would be enough to fool the audience just in case she needed to be Lopez's understudy should she fall ill.
Lopez's gown had made the headlines during the 2000 Grammys. The beautiful dark emerald green gown designed by Versace was crafted from silk-chiffon.
And there DeGeneres was, wearing a rip-away replica of the dress, that came with built-in cleavage, too!
Between hysterical bursts of laughter, Lopez managed to explain that as much as she might want to, letting DeGeneres replace her would be weird, as it was her concert, and people would notice, even if DeGeneres could sing.
DeGeneres quickly made use of the rip-away feature of her dress and looked much more like herself in a pair of black pants and a plain cut black t-shirt. She later took to Planet Hollywood's AXIS stage to deliver the introduction to Lopez's performance.
Ellen quipped that she wouldn't be filling in for Jennifer at the concert, before allowing the singer to take the stage.
Lopez bowled the audience over with her performances as usual.
But she didn't forget to involve DeGeneres in between. At one point during the concert, she called out to the talk show host in the crowd and tossed a classy silver-embossed New York Yankees cap towards her.
Please fill in your e-mail so we can share with you our top stories!