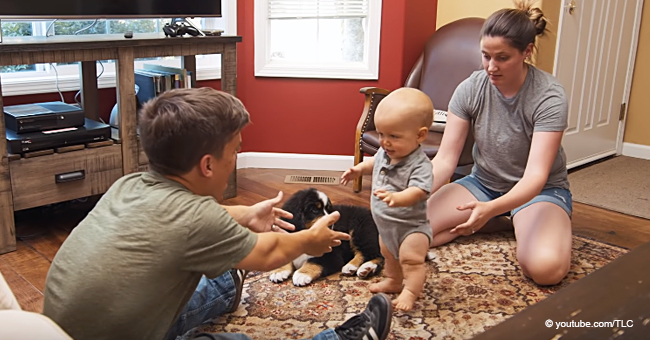 'Little People, Big World' Zach and Tori Roloff Celebrate Their Son Jackson's First Steps
A sneak peek from this week's episode of "Little People, Big World," revealed that Jackson Kyle Roloff was already taking his first steps. The clip showed the little boy practicing with his parents.
In the short clip of "Little People, Big World," Jackson Kyle Roloff's mother Tori Roloff was heard saying about her son: "He's going to start walking." She adds, "It's like right around the corner."
Tori and her husband Zach Roloff are shown moving around furniture in their living room to give their son the space he needs to learn to walk on his own. Jackson's mother explains, "We kind of want to set it up as a safe area by moving our furniture and practicing with him."
Then Tori sits on the right-hand side of the room while Zach waits on the left. Jackson then starts practicing his walking from his mother to his father with a few disturbances from the family's new puppy, Murphy.
Jackson's father shares his amazement at his son's progress. The little toddler was born with achondroplasia, the most common form of dwarfism.
Zach said: "Jackson is way ahead of where I was at this time." He added, "Jackson's just like a completely different baby than I was. It's so fun seeing your kid advance and learn something new."
The reality television star shared that he didn't take his first steps until he was nearly 2 years old. Zach noted: "Jackson is killing it, being a dwarf and everything."
He revealed that his son was "just doing his thing, developing along nicely and hitting all of his milestones." The star explained about his boy's development saying: "You have to encourage a dwarf child a little more because it will take them five steps to do what others can do in two."
The family patriarch proudly added: "But I knew, dwarf or not, I was going to parent my child with the mentality that not everyone gets a trophy. You have to earn it." The star acknowledged that things were much better for his son.
He said: "The world is changing. People are more open to diversity." Sharing about their parenting style he stated: "Whatever he wants to do, we're going to find a way to help him do it. That's our job in life now."
Jackson was born on May 12, 2017, weighing in at 9 lbs., 1 oz., and 20.5 inches long. Speaking about the birth of his first child Zach said: "Baby and mother are doing great and Jackson is already mastered holding daddy's fingers and snuggling with mom! He is adorable and Tori and I are loving being parents."
He and his wife married in July 2015 and announced in November 2016 that they were expecting. Then threw a gender reveal party where they found out, in front of 50 of their friends and family, that their baby was a boy.
"Little People, Big World" airs on Tuesday at 9 p.m. ET on TLC.
Please fill in your e-mail so we can share with you our top stories!