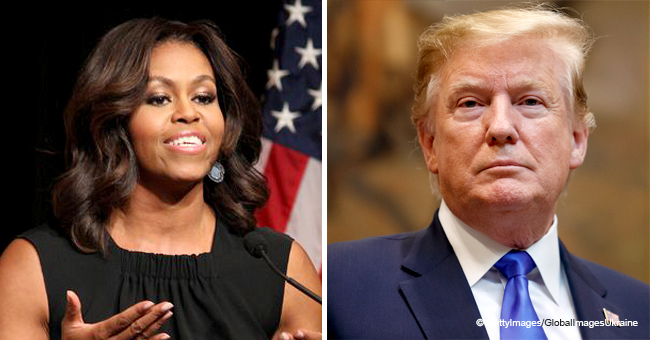 Michelle Obama Berated for Comparing President Trump to a 'Divorced Dad'
Michelle Obama shocked when she likened Donald Trump's presidency to the struggles of a "divorced dad," a stereotype that did not sit well with many as fans lashed out.
The former first lady stopped by in London on Tuesday as part of her extended promotional tour for her best selling book, Becoming.
While she and her moderator for the evening, Stephen Colbert got into a discussion about America, he set the stage for Michelle's controversial metaphor. "America is like a teenager," Stephen quipped.
Nodding her head, Michelle agreed, "We are a teenager, we've talked about this," she said as Stephen added, "And we are confused because our body is changing."
Turning to the audience, Michelle continued:
"We come from a broken family; we are a teenager and you know, a little unsettled. Having good parents are tough, you know, sometimes you spend weekends with divorced dad, that feels like fun, but then you get sick. That is what America is going through; we are living with a divorced dad."
The audience laughed and cheered, but that vanished soon as many took to social media and expressed their distaste in Michelle's contemptuous words as a fan wrote:
Other netizens pointed out that the comment made sense in context and that the current president is a divorced father himself as another stated:
The mother of two took more deliberate stabs at Donald Trump during the evening. When she spoke of how their family's lives changed because of Barack's presidency, Michelle added, "We were always ourselves – the presidency does not change who you are, it reveals who you are."
Even though Michelle did not mention Donald's name, some comments could not be mistaken for anything other than stabs at the way he has been leading the country.
"For anyone who had any problems with Barack Obama, let's just think about what we were troubled by – there were never any indictments," Michelle quipped.
She also feels like the world is currently in a "dark" place but felt hopeful for the future of the country.
"This may feel like a dark chapter, but any story has its highs and lows, but it continues. Yes, we are in a low, but we have been lower," Michelle said. "We have had tougher times, we have had more to fear. We have lived through slavery, the Holocaust and segregation."
During the evening, Michelle also reminisced about her previous meeting with Queen Elizabeth ten years ago. The meeting caused quite the uproar when she side-hugged the Queen and elaborated on whether she would have done anything differently in hindsight.
Please fill in your e-mail so we can share with you our top stories!