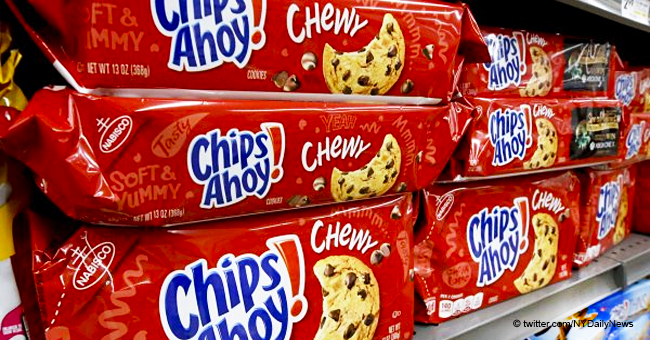 Nationwide Recall Alert: Chewy Chips Ahoy Cookies Contain An 'Unexpected Solidified Ingredient'
Particular Chewy Chips Ahoy 13 oz cookies are being recalled for having an 'unexpected solidified ingredient,' which may pose health hazards. Customers in the US holding such products should not consume it, says the parent company.
Mondelēz Global, the parent company of Nabisco, announced a voluntary recall of Chewy Chips Ahoy products last Tuesday.
The recall, which applies to the whole US, includes 13-ounce packages which have "best when used by" dates of 07SEP2019, 08SEP2019, 14SEP2019, and 15SEP2019, found on the upper left side of the package, by the lift tab. Those included also have the retail UPC 0 44000 03223 4.
Elizabeth Wenner, the company representative, e-mailed CNN explaining what the solidified ingredients may be. She said:
"In some instances, the cornstarch in our Chewy Chips Ahoy! Recipe did not fully incorporate in the mixing procedure and solidified in the baking process."
The cornstarch may cause adverse health effects, says the company, which warned customers with the packages mentioned above not to eat them, and instead contact Mondelēz Global.
"The vast majority of consumers have not reported adverse events with respect to the product in the four code dates recalled. However, a small number of consumers have reported gagging, choking or dental injury, but none of these reports have been confirmed at this time," Wenner said.
"We issued this voluntary recall as a precaution, as the safety of our consumers is our top priority."
There have been cases of product recalls in the past months as well. Just last March, Tyson Foods recalled about 70,000 pounds of chicken strips due to pieces of metal that possibly mixed with the product.
The statement published on the company's website disclosed that ready-to-eat chicken strips manufactured on November 30, 2018, received customer complains of having "extraneous materials" found in the product.
Another case of food recall also occurred at the beginning of the year when Perdue Farms' gluten-free Organics Breaded Chicken Breast Nuggets were said to be contaminated with wood.
Like the other companies, customers filed complaints stating that they found pieces of wood in their nuggets. The company released a statement shortly revealing that there are no confirmed reports of adverse health reactions, but customers should not consume the products for safety reasons.
Please fill in your e-mail so we can share with you our top stories!