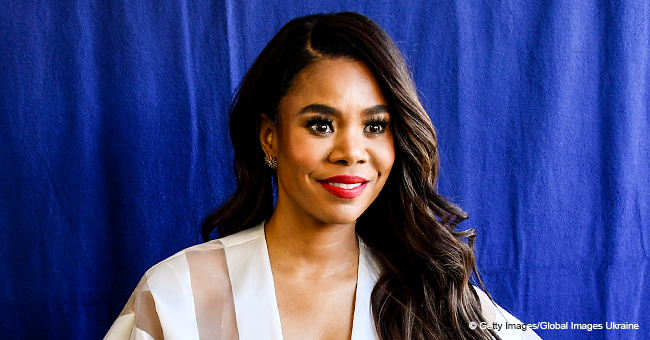 Regina Hall Flaunts Curves in Risqué Photoshoot
Regina Hall is leaving a blazing trail across social media with her recent picture from a photoshoot. The actress, who recently had to rush her mom to the hospital, showed off her curves in a barely-there outfit.
At 48, Hall has a youthful face and an amazing body, but she's not exactly one to flaunt her assets, which may be why her latest Instagram picture is having such a huge effect.
BLACK GIRL BLAZING
Hall took to the social media platform with a photo of herself in a black, fringe dress that bared her sides from top to bottom and is held together by a matching belt in the middle.
The "Support The Girls" actress teamed her risqué outfit with a pair of black heels while striking a seductive pose on a stool. "Til next time," Hall simply captioned the post that has since garnered over 250,000 likes and comments from followers and fellow celebrities.
THUMBS-UP FROM FRIENDS
"Ohhhhhhhh ok. Ok maam. Let. Them. Have. It."
While Hall's body is undoubtedly on fire in this picture, the expression is a more appropriate metaphor for her career at the moment.
BLACK GIRL BOSS
The D.C. native recently made her Executive Producer debut alongside "Black-ish" star Marsai Martin, in "Little," a movie about an unkind boss who is transformed into the child version of herself.
Hall also stars in the film and during a recent conversation with The Grio, explained why the project means a lot to her:
"I thought it was great for young girls and women to see a story that was magical and had a beautiful arc about friendship, trust, vulnerability and what it means to be kind. Instead of just having the credit of executive producer, I was actually able to participate."
SUCCESS ACCORDING TO REGINA HALL
Hall further dished on her career success in an interview with The New York Times last month, revealing that her idea of the concept has changed.
"Now I think about it more in terms of present-moment happiness than 'if this happens then that might happen,'" said the "Girls Trip" star.
Hall added that she now also has a heightened consciousness for the safety of her mom, who is her only living parent after her dad died of a stroke.
MOMMY'S GIRL
That new consciousness came into play when Hall's mom exhibited symptoms of a stroke following a marijuana treatment suggested by the actress.
Hall recalled the hilarious incident during an appearance on "Jimmy Kimmel Live" last month, explaining that the marijuana was left over from the stash she used to treat her dog; the dog eventually died, but Hall thought it would be good for her mother's arthritis.
Hall recalled her mother feeling numb in the mouth and her speech being slurred. After calling an ambulance and seeing the doctor, however, they realized there was no cause for alarm.
"Well, we learned when her mouth gets like that, she's just high," Hall joked.
Please fill in your e-mail so we can share with you our top stories!