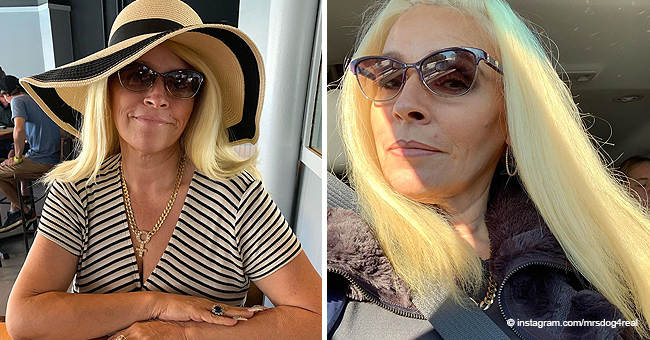 'Cancer Does Not Define Me': Beth Chapman Sends an Inspiring Message to a Fan Battling the Disease
Beth Chapman proved she truly is a brave woman in the face of adversities as she reached out to a fan who is battling cancer. The reality star took to Twitter to let her fan know that cancer does not define one's life.
The 51-year-old, who has been battling lung cancer, offered personal insight on living with the deadly disease. Her words revealed she has a positive attitude towards life even when she has been suffering for so long.
A fan reached out to the bounty hunter's wife on Twitter. The tweet read, "@MrsdogC as I battle cancer myself you remind me daily it's ok to smile and cancer doesn't define us to live life to our fullest thank you for inspiring me."
Replying to the Tweet, Beth wrote:
"I'm not listening to anyone but my body. If my body feels good then leave it alone I'll treat what hurts or ails me but I'm not gonna go looking for trouble lol #cancer does not define me it's merely a footnote in my biography! #Fuckcancer I'm not doing that."
The reality star previously beat cancer in 2012 before it resurfaced and spread to her lungs in 2018. She and her husband are determined to fight the deadly disease with all the strength they have.
According to a source, Beth was recently hospitalized in Hawaii following breathing complications due to cancer.
Beth was diagnosed with throat cancer back in 2017. After the diagnosis, she underwent treatment with a 13-hour long surgery to remove the tumor in her neck. Unfortunately, her cancer returned towards the end of 2018.
However, cancer has not stopped Beth and her husband Duane Chapman from living their life to the fullest.
Duane shared how they have been seeking alternative treatment aside from chemotherapy for Beth. Meanwhile, the family is engaged with the filming of "Dog's Most Wanted Show" despite everything.
"Beth is there, my son Leland is there, we're all together a team the family out there, we don't think about nothin' but that," Duane said.
He further shared how he wants to spendthe rest of Beth's life by savoring every moment they have left together.
Beth's journey to recovery is an inspiration to those who are fighting a life-threatening disease like cancer. We hope she finds the strength to keep going.
Please fill in your e-mail so we can share with you our top stories!