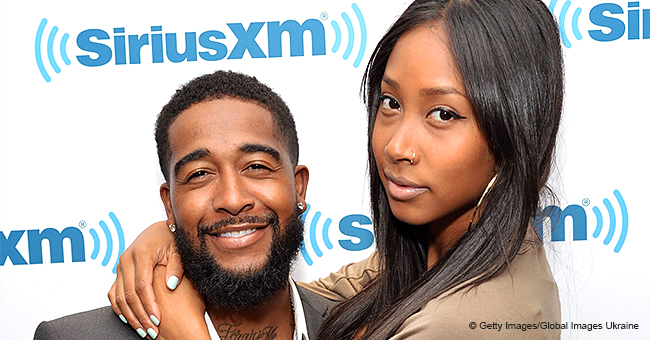 Omarion's Ex Apryl Jones Cuddles Her Kids in New Family Photo

The ex-partner to the singer and mother of his two children posted a sweet picture showing her and her kids in a cuddled up position. The post was well received by its viewers who all agreed that the children and their mom looked cute.
Apryl Jones's latest Instagram post is catching a lot of attention from admirers. The post shows the mother of two all loved up and cuddly with her two children, Megaa and A'mei. The trio looked all playful and cute after enjoying a meal of pizza as Apryl's caption confirmed.
Apryl's caption described the moment she and her kids were in while the image was captured. She said that as a mother she had to do things to make her children happy, referring to pizza which she and the kids had eaten. She also referred to her hair and that of her children, asking viewers of the post not to comment on it as she hadn't had the time to do it.
Respondents to the post were not bothered about the hair or the way the trio looked in the image; instead, they all admired the picture and the infectious cuteness that it possessed. They also asked Apryl to ignore any negative comments about her hair or that of her children, as authors of such comments could look even worse.
Other respondents also talked about Megaa's striking resemblance to his father, Omarion. Omarion and Apryl were previously involved in a relationship before parting ways in 2016. Their breakup came four months after the birth of their second child, daughter, A'mei Grandberry.
The hands-on mother of two has previously condemned Omarion's behavior towards the children, saying he wasn't helping her with their upkeep and that his financial assistance wasn't much either. She also claimed then that she was receiving little support from members of Omarion's family.
The post, which came via a live Instagram feed also saw Apryl vow that Omarion would be more present with the children as she was going to start working more.
Though things have not been rosy between the pair since their split, they came back together for A'mei's one-year birthday celebration. During the anniversary, the father and mother were all smiles, somehow hiding all that was going on between them, while baby A'mei looked as cute as she has always been.
While all may seem steamy between the two parents, many wish that they find a way to settle their differences so that their children can have a good upbringing.
Please fill in your e-mail so we can share with you our top stories!