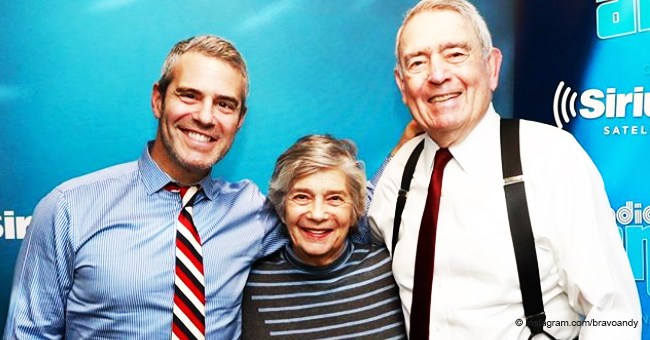 Andy Cohen Gets Mocked by His Mom for Sharing a Throwback Photo of Himself in a Speedo
Andy Cohen posted an epic throwback picture over the weekend, taken on a beach in the 1990s that had fans in hysterics for several reasons.
The 50-year-old proud new father took to Instagram on Friday and shared a picture taken at Mykonos in 1992. He referred to what became Lindsay Lohan's favorite spot in his caption that read, "Mykonos, pre-Lohan Beach Club! (1992)."
The picture featured a young Andy with long raven hair tied in a ponytail, a white muscle shirt, and something most are grateful for mostly having stayed in the 1990s, a small Speedo swimsuit.
While most of Andy's fans gushed over the picture, his mother Evelyn did not appreciate the picture one bit. She didn't hesitate to make her disapproval known either as she replied, "Get a grip."
Unperturbed by her comment, Andy jokingly responded, "@westbiltmore my own mother is trolling me!?"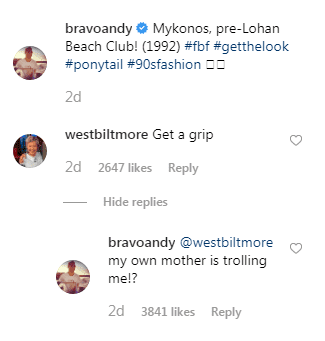 Comment from Andy's mother, Evelyn to his throwback picture. | Source: Instagram/bravoandy
After Evelyn's post of disapproval, fans loved Andy's post even more as the comments streamed in with renewed vigor. They loved how Evelyn acted like a typical mother and didn't hesitate to share their approval: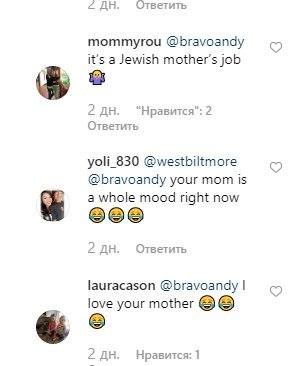 Comments to Andy's Mykonos throwback picture. | Source: Instagram/bravoandy
Andy made the most of his Friday flashback theme as he also shared a picture along with his best friend, John Mayer.
A rainbow lit up the sky behind them as the two smiled for the camera at a concert of the band, "Grateful Dead" during their 50th-anniversary tour.
As fans know, Andy became a first-time father to Benjamin on February 4 via surrogacy, and he recently spoke with Jimmy Fallon about the challenges of fatherhood as a single parent.
"It's been such a journey, and it's been so interesting trying just to figure out how to do everything," he told Jimmy on "The Tonight Show."
At first, Andy found many situations challenging as he candidly continued, "I'm like, 'How do I do this? How do I take him outside?'"
Where Andy initially used a BabyBjörn carrier to cart the little guy around, he admitted that the baby stroller "freaked" him out in the beginning. "I thought, 'I'm going to look so weird pushing a stroller,'" he said.
But the advantages of a stroller soon had him try it out and got over his fear of looking "weird" as he added, "I love the stroller so much. It is like pushing a shopping cart; I can put everything in it."
Shortly after Benjamin's birth, Andy shared a short clip of his newborn son and their first time together, on his show, "Watch What Happens Live With Andy Cohen."
The interaction between them warmed the hearts of many as he sweetly shared that he is "falling in love with him (Benjamin) every day."
Please fill in your e-mail so we can share with you our top stories!