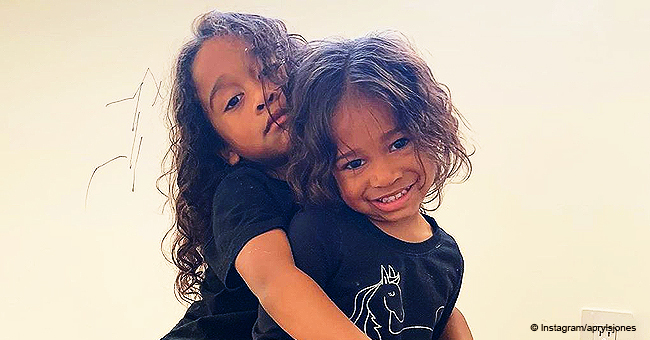 New Pic of Apryl Jones & Omarion's Kids Raises Questions

Whenever Apryl Jones shares pictures of her two kids, one thing is bound to happen, and that is pure admiration of the pictures from fans all over social media. That fact still has not changed with the latest picture she shared, as fans are torn over which one of the kids is the boy and which is the girl.
Apryl Jones may currently have the cutest kids in the world. The mother of two shared a picture of her children last week cuddled up after a pizza snack. This week, she decided to be left out of the action as she posted a lovely picture of her two lovelies together on a Chanel themed mini-scooter.
The proud mom duly captioned the picture with the words:
"My little perfections… the children surely are perfect creations."
As expected, the picture generated a lot of admiration from fans, only that this time many were left bewildered as to which of the children was the boy and which was the girl. The comments on the post attested to these facts.
Many commenters found it hard to tell the difference between them, as they both looked too similar. They all felt the kids looked so perfect and cute. Other commenters chose to reflect on the drawing one of the kids must have made on the wall, with some joking that it was a masterpiece, while others playfully cautioned them not to draw on the walls.
More commenters, however, believed the kids were twins, and truly no one can blame them for thinking so. One commenter who went all the way to portray that fact told Apryl that she gave birth to the children twice and that they are so beautifully made.
Some other commenters believe the kids are a splitting image of their mom and dad, with some saying that Omarion and Apryl shared the same genes. Apryl and Omarion parted ways in 2016 four months after the birth of their second child, A'mei Grandberry.
Together, they have two children, first child and son, Megaa and their daughter, A'mei. Things have not been rosy between the two since their split. Apryl went public after their split with a video in which she lambasted Omarion for not being there for her and the children and asking him to show more presence in their lives.
Please fill in your e-mail so we can share with you our top stories!