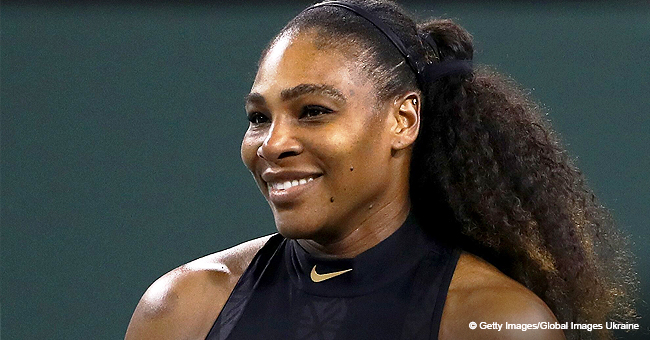 Serena Williams' Daughter Alexis Plays with Tennis Rackets (Video)
Serena Williams is raising another tennis legend in the most recent post featuring her precious daughter Olympia. See how the young tot is already showing off her skills.
Even before she reaches her two-year birthday, little Alexis Olympia has already handled a racket several times. Of course, what she's done with them is another story.
Williams shared an adorable video of her daughter picking up and placing down a few rackets, then disappearing with one before returning to view. The clip is found below.
The professional athlete shared the clip on Monday and fans in the comments were happy to see the cutie to start off the week. Not only that, but she was showing off the talent she inherited from mommy.
In the caption, Williams wrote:
"History in the making..."
The video showed as the 19-month-old threw down a Wilson racket then go to a storage room, get another, and throw that one down as well. That's after knocking it against the dark wood floor a few times.
With the third one, she disappeared elsewhere and another hitting noise is heard. She then returned to view with the racket in hand. Three rackets were on the floor by the time the video cut off.
In the comments section, comedian Chelsea Handler had perhaps the most hilarious yet appropriate comment of all:
"This is ridiculous. Now, she's going to start kicking [expletive] on the court before she can talk?"
The tennis-themed post is the second of its kind to come from the toddler. In July 2018, Alexis was photographed wearing a tiny Wilson tennis bag on one shoulder.
She also wore a large button on her chest which read, "The All England Lawn Tennis Club." Talk about extreme cuteness. The post was put on Alexis' own Instagram page, which is apparently verified.
Williams has described her little girl as being "crazy and wild." In an interview with Good Housekeeping, she said dancing is Alexis' favorite activity.
As for the "wild" part, Williams explained further:
"I think 'wild' has a negative connotation. But I don't think it should be a bad word in terms of babies. It should be more like curious, exploring, or excited. Babies are so innocent. Everything they're learning is brand new. I'd like to change the perception of the world 'wild' into something more positive."
Williams would know all about how best to describe her child as she reportedly hasn't spent even one full day away from her. Despite having to balance tennis, a clothing line, and other entrepreneur projects, she's always put Alexis first.
"I'm a super hands-on mom. I am with her every day since she was born. We haven't spent a day apart. Despite my best efforts to be like, 'Oh, I'll take her with me' … It's been really trying. This is a whole new territory for me."
Thankfully, little Alexis is not always all over the place. In January, the little tot was pictured in a lovely garden and appeared to be staring into space reflectively.
Pretending to be her daughter, Williams captioned the post, "Sometimes I need time to think." Of course, more often than not, parenthood is a difficult challenge, even for the tennis champion.
It also is for 35-year-old Reddit co-founder Alexis Ohanian, her husband. Yet the two both put in their best efforts when it comes to raising their daughter and keeping the romance between them alive.
In a written interview with Glamour, Ohanian explained that the two share schedules in order to do their best to keep up with their busy lives which often include lots of traveling.
Ultimately, he explained how it's all about family:
"I'm far from perfect, but I try to get behind her and let her know I'm there for her and our daughter, no matter what."
Please fill in your e-mail so we can share with you our top stories!