Gabrielle Union's Touching Tribute to Mom on Her 72nd Birthday (Photos)
Theresa Union clocked 72, and her star actress daughter displayed great affection for her as she took to social media to leave her a heartfelt message. Gabrielle only exuded joy as she penned down a lengthy message to accompany photos of herself, her sports star hubby, Dwayne Wade, and her mother some three days ago.
The first photo has the trio standing on a wooden patio with Wade between the two women. The next two are of her mother looking so youthful and fantastic in chic ensembles. The last has the mother-daughter duo with big smiles on their faces as they look straight at the camera. 
While the photos are just stunning, it was Gabrielle's sweet caption that got fans clutching their hearts in adoration. Alongside wishing Theresa a happy birthday, the stunning actress went out of her way to praise her excellent parenting skills. She wrote:
"Happy Birthday Mom!!! Theresa Marie Glass Union, the woman who is pure love and light. I'm sorry when I actually thought I had all the answers. I now know, you were allowing me to live and make mistakes and come to my own conclusions and learn some hard ass lessons."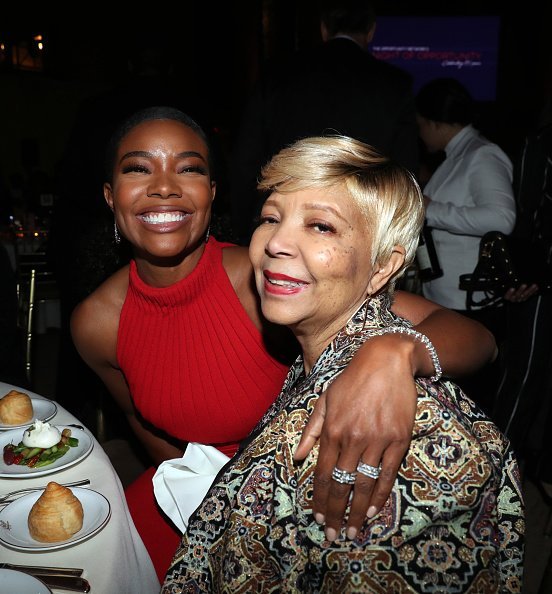 She finished off the post with a mention of their shared love for reading, one she takes pride in:
"Thank you for taking me to get my library card and for our shared love of books and words. You really are just getting started, and you are so loved and appreciated. #72"
Her followers simply adored the display of love with many commending the excellent outfit choices. A fan, @afrobeaediousaffair found the message particularly heartwarming and related to Gabrielle's message as she wrote:
"@gabunion ..Beautiful mom.....It's only when we have our own Children do we truly understand and x."
The fan then went on to praise her tight bond with her mother saying:
"CONTINUE.....Connect with our parents...Stay blesses girl...Moms are the best!"
It isn't the first time the award-winning entertainer will be displaying so much affection and respect for her mother as "The Grio" reports that the "Bring It On" actress attributed her perfect performance playing a one-woman army in the upcoming film, "Breaking In," to her mother. 
She explained that she had found playing out Shaun Russell, a woman tasked with saving her children, very challenging. She revealed that she found her mother a great muse, perfect for nailing the demanding role.