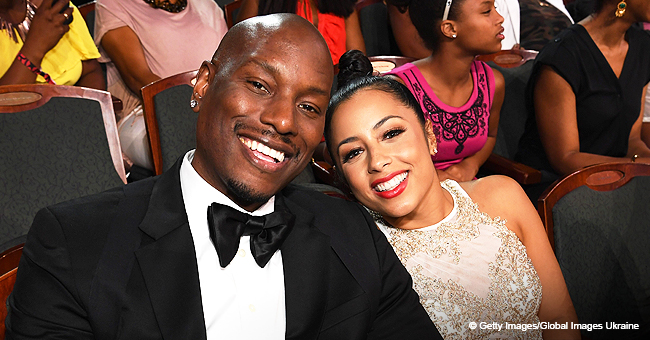 Tyrese Cuddles His Baby Girl Amid Legal Drama with Ex-Wife Norma
Tyrese shares videos of him spending quality time with his daughter despite the turmoil surrounding his relationship with his baby mama.
The movie star who has two daughters from two partners posted a video of him carrying his adorable six-month-old daughter on a football pitch while he dropped his older daughter off at school. In another clip, his youngest daughter played joyfully as another female whose face wasn't shown could be seen playing with her.
"There's no joy like the joy of an innocent child, thank you, Father, for giving me all I need."
But unfortunately, things have not been going on with the actor and his former partner, Norma Gibson. A couple of years ago, Will and Jada Smith gave Tyrese a large sum of $5 million after he had a breakdown on Instagram about not being able to pay his daughter's legal fees. A few months ago Tyrese claimed his ex-wife Norma Gibson left their daughter with a friend while she traveled out of town for a few days.
The "Fast and Furious" actor claims that Norma should have informed him before she traveled as it is part of their custody agreement. Norma is now told to appear in court to justify her actions if not she can be held in contempt of the court and also pay Tyrese's legal and attorney fees.
Tyrese also in some sort of feud with one of his fast and furious cast member Dwayne Johnson claiming that he is the reason why the franchise has been delayed till 2020, instead of 2019 as was formerly planned.
Tyrese said on "The Red Pill" podcast that it was not professional to make his beef with Dwayne "The Rock" Johnson public. He implied he was not the only one with negative feelings toward Johnson, but he was the only "stupid one that went public about his feelings."
Johnson has however maintained that the beef was one-sided. He recently said on "Watch What Happens Live with Andy Cohen" that it was "disappointing" because he had been friends with Tyrese for a very long time.
With all these dramas going on in the actor's life, it is good to know that one thing (his kids) is still going right for him and that he is happy being a father to two adorable girls.
Please fill in your e-mail so we can share with you our top stories!