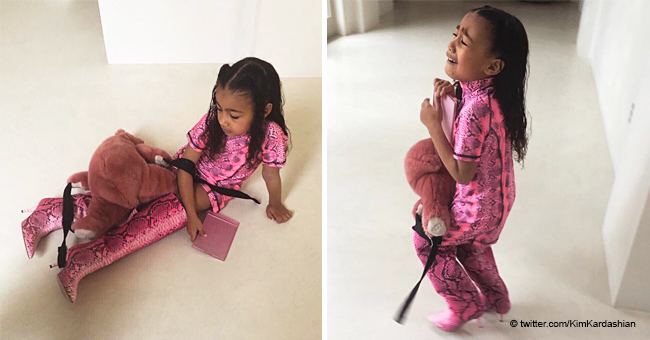 Kim Kardashian Shares North's Meltdown after She Wasn't Allowed to Wear Mom's $775 Boots

Kim Kardashian's recent update about her daughter North showed how much takes after both her parents when she turned out not to be as dressed for the day as she thought.
The 38-year-old posted pictures her the little fashionista having a meltdown when Kim told her she couldn't wear her pink Yeezy heeled snakeskin boots retailing for $775.
While North is known for doing her own makeup and dressing herself up in stylish clothes with no help from mom Kim, while only five years old, she had even inspired some of Kanye's designs for his streetwear line Yeezy.
However, that didn't mean that Kim would let North wear her boots. In photos taken in stages of North West's meltdown, it would seem that she inherited her father's temperament.
Her mom's fashion influence also shone through as the boots matched her outfit perfectly. Kim found the situation hilarious as she captioned the post, "Sooooo Miss North dressed herself and thought she was ready for the day until I explained she couldn't wear my boots."
Comments from fans streamed in as one fan joked that Kim should have let North wear the boots:
North's meltdown over the boots has even inspired some memes as a follower added to the array of responses:
Others commented on North's sense of fashion and with all the Kardashian women as role models, coupled with her love for clothes, it doesn't seem all that surprising:
The 5-year-old rocked a pink theme with the Yeezy boots, a matching snakeskin dress, a bear backpack, and what appears to be a small pink notebook.
Donning mom's boots started at an early age as North stole Kim's silver metallic looking Balenciaga boots two years ago, and of course, posed for a photo opp before she took them off.
Kim posted pictures of North with the oversized boots with the caption, "Didn't think it would happen this soon...my baby girl stealing my shoes. At least she has good taste #Balenciaga."
Fans loved the post just as much as the one of North Kim posted on Wednesday. "This is too cute!" one posted, while another added, "lmao it runs in the family."
Apart from motherhood and her otherwise packed schedule, Kim is working on advancing her career. Wanting to make a difference in the world, she is following in her father, Robert Kardashian's footsteps.
The beauty mogul is busy studying for the bar exam so she can become a lawyer. Since the news of her latest endeavor spread, the famous lawyer Robert Shapiro had reportedly offered her a job pending on her passing the bar exam.
Kim's father and Robert Shapiro formed part of the "dream team" of attorneys that successfully defended OJ Simpson during his trial.
Robert recently talked about Kim's qualities and drew a comparison between her and her father.
Please fill in your e-mail so we can share with you our top stories!