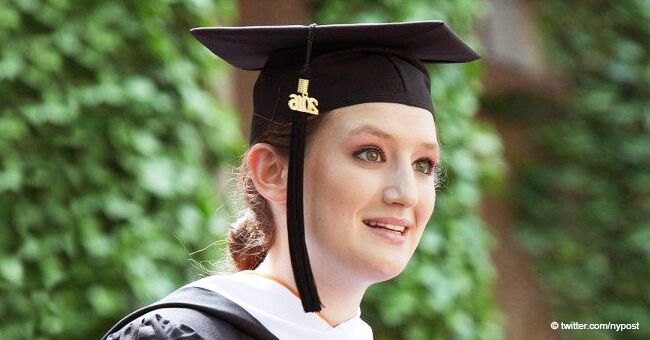 25-Year-Old Student Reportedly Gets Engaged to Her 71-Year-Old Former Professor
Princeton University's 2016 25-year-old valedictorian recently got engaged to her 71-year-old professor who "captivated me with his brilliance, sensitivity, and passion," as written on her Facebook post.
Cameron Platt, 25, a star student at Princeton University, who graduated with a degree in English and a certificate in theater, recently revealed her seven-month long relationship with her former professor, Lee Clark Mitchell, 71, who is now her fiance, in a private Facebook post.
Mitchell was the chair of Princeton's English Department when Platt first took his class on Henry James and William Faulkner in the fall of 2013. Through his lectures, he captivated the young student "with his brilliance, sensitivity, and passion," changing her perspective on many things.
As graduation was approaching, Mitchell became a "devoted mentor," which helped her graduate a valedictorian, and later pursue a master's degree in English and United States history at the University of Oxford.
Despite being apart, Platt couldn't keep her thoughts away from her gray-haired professor, realizing that what she felt was something much more than admiration.
"I was surprised to find how much I still thought of Lee -- and soon I understood that I felt something for him that I'd not fully acknowledged before," she wrote.
At the end of her course, Platt contacted Mitchell in September and asked him out on a date at the Metropolitan Museum in Manhattan, where they rambled "like shy teens, eager but tentative."
Platt has defied love and proved that age is merely a number
Alas, the air was cleared, and the two realized that there had been a feeling that they were bounded by which altogether resulted in love.
"Something then sprouted from a seed that neither of us had known that we'd planted, and we realized that the force of feeling that we'd long had for each other and called by other names (admiration, wonder, devotion, gratitude) held within it the hope and the potential for love," she continued.
Platt has defied love and proved that age is merely a number, which should not hinder any form of relationship from happening. A similar young woman likewise showed that her age didn't prevent her from being a proud mother to her daughter.
Kayleigh Danielle Molloy Snaith was only 14 when she gave birth to her first child. At such a young age, she was ridiculed by her classmates and lost hope that the teen would survive school with her child, more so become a good mother.
During her prom night, she slammed all the hate from her peers, and brought her baby girl, Harley, with her, showing everyone that her daughter "is a princess in my eyes" and wanted her to "grow up knowing that she deserves the best" and not to settle for less.
Please fill in your e-mail so we can share with you our top stories!