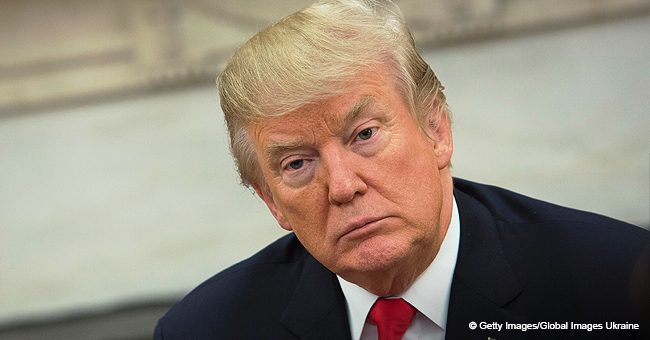 What Trump Allegedly Discussed with Twitter CEO Jack Dorsey
Donald Trump, the President of the United States, had a meeting with Twitter's co-founder and current CEO, Jack Dorsey; his present state of social media was the main topic of discussion.
President Donald Trump, who is known as the "Twitter King" by some, has always seemed to have more time on his hands than he should and he just made more headlines with his meeting with Twitter's Jack Dorsey.
According to reports, the public servant who has just under 60 million followers online summoned Twitter's representative to the oval office just a few hours after he claimed that Twitter wasn't treating him well.
The 72-year-old insisted that the social media giant was "playing political games" as he claimed that Twitter was tampering with his follower count.
The President tweeted furiously:
"…But should be much higher than that if Twitter wasn't playing their political games. No wonder Congress wants to get involved - and they should. Must be more, and fairer, companies to get out the WORD!"
Mr. Trump claimed that the company maltreats him because he's a Republican. The President also "exaggerated" that he is the best thing to ever happen to Twitter.
Despite his rampage online, Mr. Trump still called Jack Dorsey for a private chat about social media in general, and one might infer that Donald also felt the need to lay out his concerns about his official page.
After the intriguing meeting, the civil servant posted a photo of Jack and himself in the oval office via his Twitter handle and then revealed that the meeting went well.
Mr. Trump wrote:
"Great meeting this afternoon at the @WhiteHouse with @Jack from @Twitter. Lots of subjects discussed regarding their platform and the world of social media in general. Look forward to keeping an open dialogue!"
The Twitter CEO went ahead and replied to the President's tweet and also used the opportunity to establish that the social networking platform only intends to make it "healthier and more civil.
According to a source, Twitter has taken active steps in reducing the amount of abusive and offensive content by deleting fake accounts and profiles.
This action, also known as "the purge," resulted in the reduction of followers of so many people, including the company's own CEO. This action reportedly led Donald Trump to speak out as he felt that Twitter was intentionally axing his followers!
Donald Trump has never been one to hide his thoughts about issues on his mind. As a matter of fact, the President is widely-known for sharing his thoughts on almost any subject, either during interviews, his campaigns or of course, his beloved Twitter handle.
Please fill in your e-mail so we can share with you our top stories!