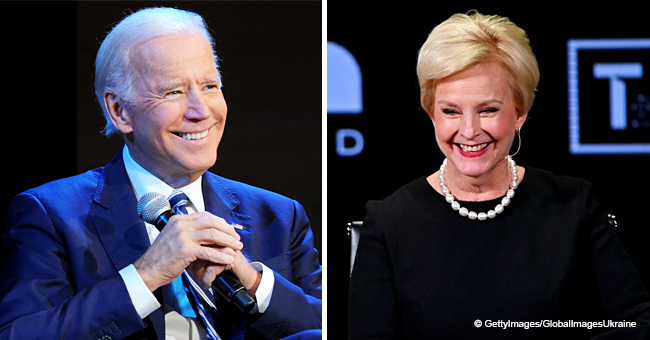 John McCain's Widow Reacts to Reports about Her Family Endorsing Joe Biden's 2020 Race
This was the reaction of Cindy McCain to the alleged candidacy of Joe Biden for 2020.
The widow of John McCain quickly denied the rumors that spread about the support of his family to Joe Biden as a candidate for the presidency.
Although Cindy McCain's opinion of Joe Biden is positive, she does not seem willing to offer her support at this time in the face of an eventual presidential campaign.
Using her Twitter account John McCain's widow, Cindy said that certainly, Biden was a close friend of her family, but at this time she had no intention of joining any election campaign.
This message was published in response to an article in The Washington Post that came out last Tuesday where the newspaper says that Joe Biden will announce his candidacy next Thursday through a video and will start with a tour next week in South Carolina, Pittsburgh, New Hampshire, and Iowa.
Although Biden and McCain were political opponents, their friendship was known, as shown by CBS News who shared how before the death of McCain, the senator asked his colleague and friend to speak in his honor.
Biden expressed with tears that he "loved John McCain" and that for him "he was like his brother" during the private memorial service that was held at the North Phoenix Baptist Church in Arizona last August.
He also remembered how they got along quickly when they met in the 70s, during John's service as a liaison between the Senate and the Navy. Sometime later they both met in the United States Senate for more than 20 years.
They were able to maintain a solid friendship despite their political differences because they knew how to transcend the personal over the political and understood that all politics is personal and that it is about trust, Biden said: "I trust John with my life."
Meghan McCain, John's daughter, also came out to defend Biden but this time from the accusations of improper behavior made by some women earlier this month.
"He is one of the decent and compassionate men that all American politics has," Meghan posted on Twitter. "He was closer to us during the diagnosis, treatment and death of my father than any of my father's friends together."
Meghan McCain, 34, is a presenter for The View, adding that she would like more empathy in American politicians.
After the recent accusations, Joe Biden announced that he would adjust his treatment to the constant changes in social norms of personal space, and that nobody had ever felt uncomfortable with his actions in the past because it is not his intention.
Please fill in your e-mail so we can share with you our top stories!