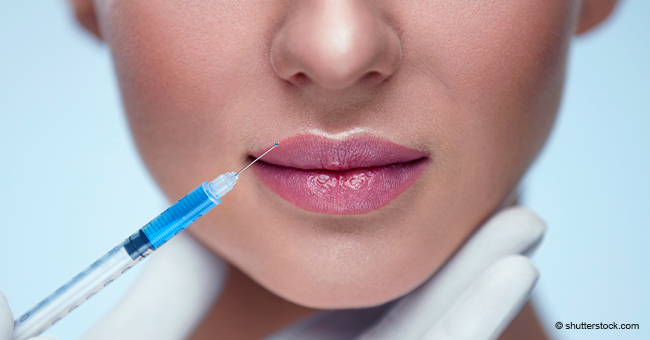 $100 Botched Procedure Leaves Woman with Enormous 'Sausage Lips'
A botched lip filler procedure left a woman in the U.K. with enormous sausage lips and much-needed life lessons.
Anyone who has seen an episode of the "E!" reality show "Botched" knows that beauty procedures can go wrong, especially when gotten from a non-reputable place or person.
Christiana Burton, a mum from Manchester, in the U.K. learned this lesson in a hard way. Like most women, she wanted fuller and more luscious lips, and instead of employing the services of a reputable professional, she got a beautician who offers home services for $100.
The beautician — name withheld — applied numbing cream on Burton's lips, and instead of performing its function, it caused her lips to swell. When she complained, the beautician assured her it was normal and went on to inject the filler.
However, things went from bad to worse when the swelling increased hours later. The stay-at-home mum started asphyxiating and had to call the emergency helpline.
It turned out she was allergic to the treatment she got, and the paramedics gave her shots of adrenaline, oxygen, and steroids to help her breathe and fight the reaction.
Burton said the pain was so intense that she thought her lips would burst, and for a moment, it felt like she might die. The mother-of-two also wondered who'll explain what happened to her children if she didn't make it.
As painful as the ordeal was, her family and friends thought at first that it was a Snapchat filter, and Burton described herself as having enlarged "Sausage lips" and looking "Like a duck."
Now, the Manchester resident wants nothing more to do with lip fillers and any form of cosmetics procedure. The 29-year-old said she's hoping that other women would learn from her and not get procedures done unless it's from people with proper training.
It turns out a lot of women are getting "Sausage lips," especially in the U.K. where there is a growing trend of cheap beauty treatments. Another young Brit, Rachael Knappier, suffered from a botched procedure.
Although Rachael was not a stranger to getting Botox, she got a home service from an ex-con who injected the filler into her nerves. Her lips became twice their size, and she ended up in the hospital.
After her experience, the 29-year-old went to Parliament asking for tighter regulations in the cosmetics industry, and the Prime Minister, Theresa May, reportedly backed her.
The PM promised to tighten regulations and work harder to fix the industry. Rachael also wants the government to ban non-health professionals from carrying out beauty procedures and is not stopping until she achieves her goal.
Please fill in your e-mail so we can share with you our top stories!