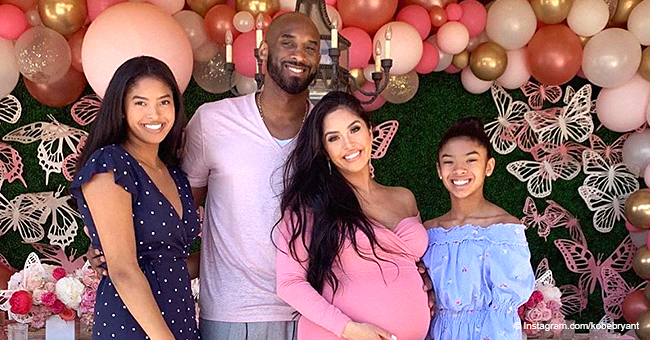 Kobe Bryant's Touching Mother's Day Tribute to His Pregnant Wife (Photo)
Whatever the occasion is, you can count on Kobe Bryant to have a sweet and endearing message for his beautiful wife, Vanessa. Just in time for Mother's Day, the NBA legend made sure to shower his pregnant wife with sweet words, sharing a photo of their lovely family.
Kobe Bryant has never missed out on a special occasion to greet his beautiful wife, and he made sure not to break the streak by giving her a sweet greeting for Mother's Day. The former LA Lakers star shared a photo of his family with nothing but smiles on their faces, in what seems to be a party for either their incoming little girl or for Vanessa herself who not only celebrated Mother's Day recently but also her birthday.
"Happy Mother's Day [Vanessa] we love you and thank you for all that you do for our family. You are the foundation of all that we hold dear. I love you #mybaby #lioness #mamabear #queenmamba"
Queen Mamba's birthday
Just a couple of days before Mother's Day, Kobe also took to Instagram to greet his wife a happy birthday as she turned 37 years old. His message, as always, was short and sweet. He likened his "beautiful baby" to fine wine, as he described her youthfulness as "getting better with age," just as wine does.
"Happy birthday to my beautiful baby [Vanessa[, you are like fine wine baby ti amo per sempre #queenmamba #taurus"
A New Mamba
Vanessa is currently pregnant with their fourth child, and they announced that they were expecting a girl. However, the Bryants are certain that there needs to be another Bryant in the NBA, and so Vanessa is eager to try and have a fifth child with Kobe while she still can.
While people think this might have been Kobe's idea, it's actually Vanessa who really wants to have a son and the five-time NBA champion is supportive of this and is willing to try again. Regardless of whether or not they'll have a son in the future, they are blessed with four lovely girls as of the moment, and this in itself is an honor for Kobe, who loves his children very much.
Please fill in your e-mail so we can share with you our top stories!