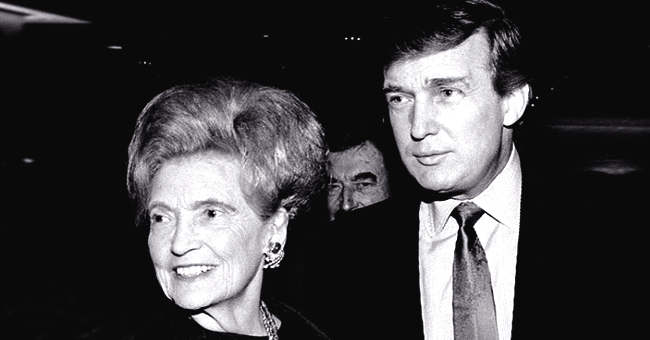 instagram.com/realdonaldtrump
Donald Trump Remembers His Mom in an Emotional Video for Mother's Day
Donald Trump called Mother's Day "one of the most important days of the year," but didn't mention his wife Melania Trump.
The President spoke about his own mother, Mary Anne MacLeod Trump, in a video uploaded to his Twitter account on Sunday. He began by commending American mothers for their "grit, determination, and incredible spirit."
He also pointed to their help in building "the greatest arsenal" for Democracy during World War II. The clip is found below.
About halfway through the recording, Donald started speaking about his mother, whom he called "a great person." A photo of a young Donald and Mary appeared on the screen.
"I learned so much from my mother. She was just incredible — warm, loving, really smart, could be tough if she had to be, but basically, she was a really nice person. I miss her a lot."
Donald credited his mother for helping him become who he is today, and, with her in mind, wished viewers a Happy Mother's Day before adding, "May God bless the United States of America."
There was no mention of Donald's wife Melania, who is the mother of the president's fifth child, Barron Trump. Last year, Donald also did not publicly wish his wife a Happy Mother's Day.
He sent out a tweet on Sunday in addition to the video, but it was very general. It simply featured a garden image with "Happy Mother's Day" written on the bottom left.
As Donald mentioned, Mary was a Scottish immigrant who entered the United States in 1930. She spoke Gaelic before learning English and traveling to America. In 1942, she became a citizen.
A childhood friend of Donald named Mark Golding said that Donald's mother mostly remained in her home. Although Mary supposedly helped to influence her son, another friend, Lou Droesch, told Fortune that Donald was "very detached from his mother."
However, Donald did say in his book, "The Art of the Deal," that he got his "sense of showmanship" from Mary, who "had a flair for the dramatic and grand."
Mary died in 2000 at 88 years old, just one year after her husband Fred Trump passed away. Of course, Fred prevailed in Donald's speech whenever he talked of his parents.
Meanwhile, Barack Obama also took the time out on Mother's Day to celebrate the mother of his children and mothers everywhere. The former President shared a heartwarming picture on Sunday.
It featured Michelle Obama hugging the couple's two daughters Sasha and Malia, as they stood on the Great Wall of China. In the caption, Barack wrote:
"Happy Mother's Day to the most caring, brilliant, funny, and grounded woman I know—a perfect role model not just for our daughters, but so many others. Love you, @MichelleObama."
Many people compared the message from both presidents in the comment section below Donald's video. Overall, most people thought that the former commander-in-chief simply did it better.
Please fill in your e-mail so we can share with you our top stories!