Tom Hanks Revealed to Ellen Degeneres Which of His Co-Stars He Was Most Nervous to Kiss
No juicy information goes uncovered when you are in the Ellen Degeneres Show. During a recent episode, Tom Hanks answered some burning questions about his career in Ellen's buzzer game. 
Ellen asked the 62-year-old actor which on-screen co-star he was nervous to kiss and his answer was rather hilarious but it made complete sense. 
"Hooch. A very large tongue," he said.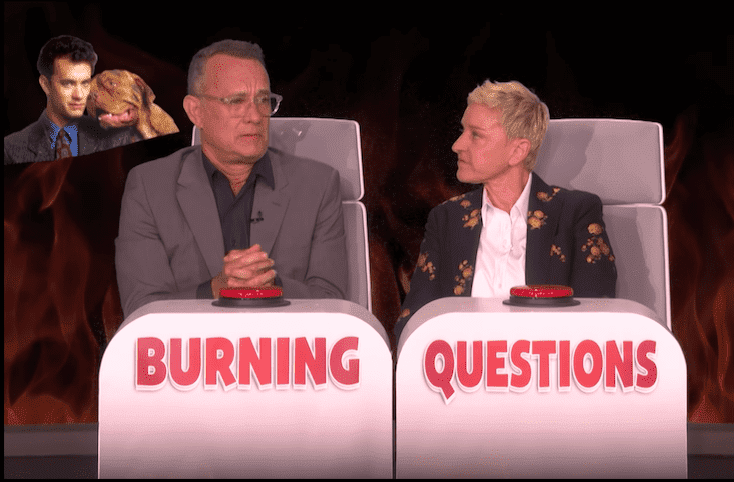 Hooch was the dog who starred alongside Hanks in the 1989 comedy "Turner and Hooch." It was funny to see how quick Hanks was to answer Ellen's question.
As the game progressed, Ellen asked him what fans say to him when they run into him on the street, he said they usually recite a line from his 2016 movie "Sully", which is the real story of a pilot named Chesley Sullenberger who landed his damaged plane on the Hudson River and saved the flight's passengers and crew. 
"They ask me to say, 'Brace for impact,'" he revealed.
The actor further revealed that he had his own star sighting moments when he was a bellman for Oakland Hilton Inn.
"I ended up carrying the bags of some very big-time people. Cher, I carried her bags," he recalled."...If she had paid me 50 cents a bag, I wouldn't be doing this show."
Hanks also shared that he can do a great impersonation of Robert De Niro's character in "Casino." Ellen was pretty impressed by him when he said "you're drunk, you're on drugs, look at you" in classic De Niro accent. 
Towards the end of the game, Hanks revealed that he had a crush on Miss Nancy from "Romper Room." 
"I knew that Miss Nancy was hot when my dad lingered at home before going off to the office," he shared.
Hanks, who is a father to four children, is currently married to actress Rita Wilson. Hanks has two children from his previous marriage with Samantha Lewes and has two other children with Wilson after they got married.