John Legend Celebrates His Son Miles' First Birthday by Sharing an Adorable Photo
"The Voice" coach and singer John Legend's youngest child just reached a big milestone. The little boy celebrated his first birthday with his family on Saturday.
Miles Theodore's actual birthday was in mid-May, however, his parents, John Legend, 4, and Chrissy Teigen, 33, decided to celebrate it this past weekend. The one-year-old's special day had a "Bear-BQ" theme.
The little boy's event also had a special pony ride and bear-shaped cake. Teigen's mother Vilailuck Teigen shared an adorable video of the couple and their daughter, Luna Simone, 3, singing "Happy Birthday" to little Miles.
The toddler was dressed in a blue checkered shirt and bear bib. In the clip, Legend held Luna, who wore a pink tutu, and Teigen sat with Miles in front of his cake as the little boy looked confused.
Teigen's mother also took to social media again to share a photo of her posing with the birthday boy as he sat smiling on top of a horse. She captioned the post: "Happy first birthday Miles."
Legend didn't share any photos from his son's special day, but he offered a sneak peek of the menu. In an Instagram video, the singer shared an overview of macaroni and cheese and other goodies.
Legend captioned the post by writing: "Return of the mac!!! #HappyBirthdayMiles." Five days ago, the musician shared an image of Miles and the milestones he'd achieved so far.
The chalkboard the little boy held revealed he had 6 teeth, was 12-months-old, his weight and height and other information. When Miles turned 9-months-old, his mother celebrated the achievement with a social media post.
She took a photo of him sitting beside the same chalkboard sign which revealed his milestones then. The sign revealed that Miles loved his older sister, loved toys with musical noises, and disliked quinoa among other things.
Teigen later jokingly recreated the image but this time her husband sat in a similar post. She hilariously captioned the post: "Wow they grow up so fast."
Little Miles was actually born three weeks before his June 7 due date. To announce his birth, the boy's mother took to Twitter sharing: "Somebody's herrrrrrre!"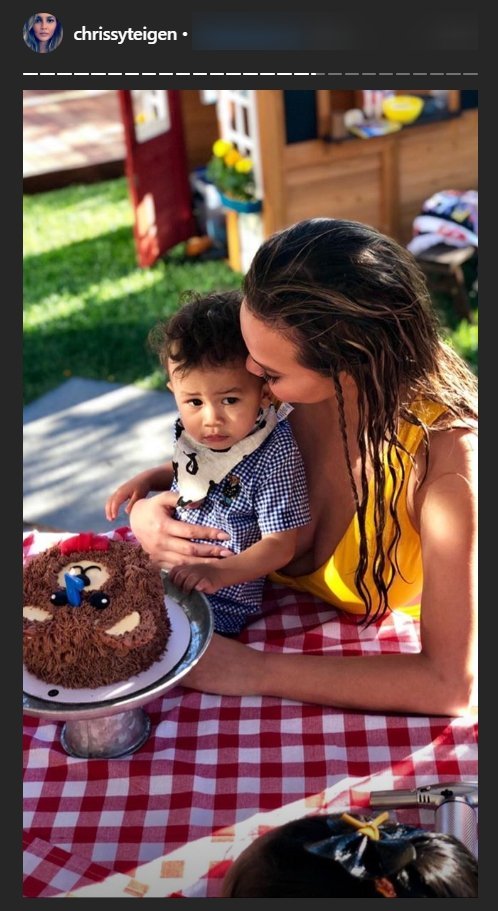 Legend and Teigen's daughter made her "Saturday Night Live" debut about a week ago although the cute moment wasn't shown on-air. On the day, her father was meant to perform a special tribute to late rapper Nipsey Hussle.
Taking to social media, Teigen shared a series of adorable videos of Luna walking down the steps with a big smile before being handed a microphone. Then someone from behind the camera tells her: "Say, 'Live from New York, it's Saturday Night.'"
The little girl says: "Live from New York," and stops before being given the last line again which she mimics.