Melania Trump Turned Heads Upon Disembarking from Air Force One When Arriving in Tokyo
Melania Trump went with a unique long-sleeve dress that was comfortable enough for her to wear all the way to Japan as she and the president went about state business on Memorial Day weekend. 
The First Lady debuted her silky white dress in Washington D.C. on Thursday as she and Trump prepared to take a 16-hour flight to Japan for a four-day business trip. Melania arrived in the same see-through dress worn when she left. 
Covered in landscape-inspired postcard print, the dress was nipped by a brown belt. According to FootWearNews, the regular price of the ensemble is $3,900. Melania paired it with Christian Louboutin's $695 Agneska pumps, which featured four-inch heels.
For accessorization, the 49-year-old wore oversized sunglasses but had little jewelry. Meanwhile, Donald wore a simple black suit with matching shoes and a solid red tie. 
On Monday, the third day of the couple's four-day tour, Melania enjoyed a small nature trip at the Akasaka Palace. Bamboo trunks greeted her as she listened to Yosuke Irie play the "shakuhachi" bamboo flute.
Japan's First Lady Akie Abe also showed Melania other parts of the country's cultural practices pertaining to bamboo.  She admired a display of vases made by bamboo as she listened to the flutist play "Amazing Grace."
Later, Melania watched on as Japanese children performed local dances. At the end of it, a young boy brought her a bouquet of flowers. The first lady was more active at the pond when she followed Abe's example and drew fish to her by clapping.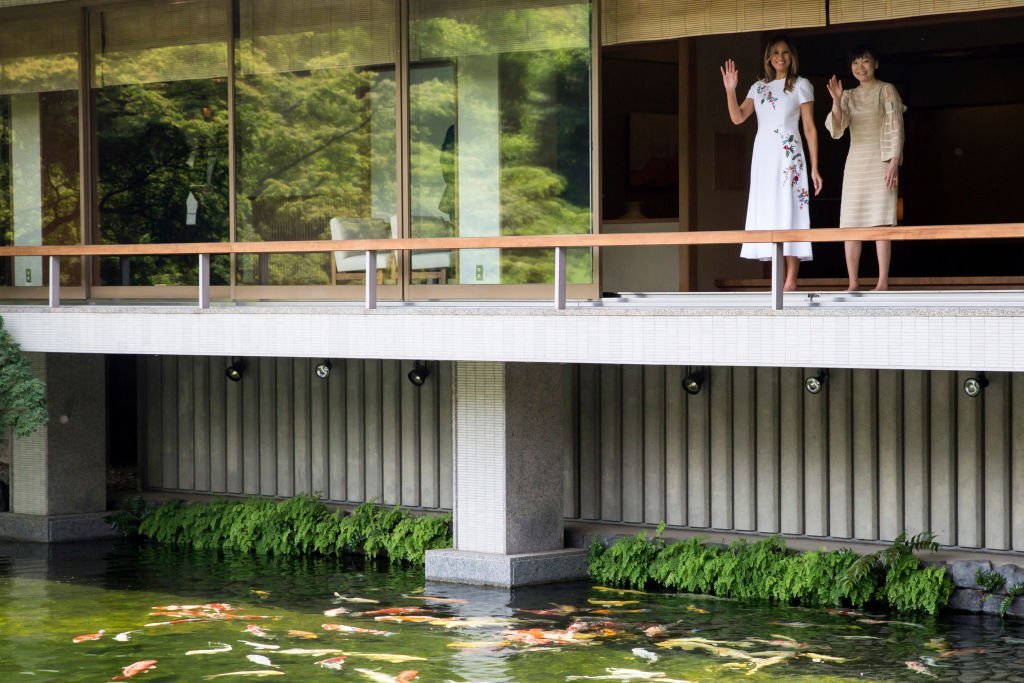 Before their trip, Donald and Melania celebrated ahead of Memorial Day by placing flags before the headstones of fallen soldiers at the Arlington National Cemetery in Virginia.
Appropriately wearing a long black dress and dark shades, Melania joined her husband for "Flags In" on Thursday. Third Infantry servicemen stood nearby while other military personnel planted flags among the 400,000 graves that adorned the site. 
Honored to be at @ArlingtonNatl today & take part in #FlagsIn to remember our fallen heroes. God Bless our military, their families & God Bless our great Nation! @USArmyOldGuard pic.twitter.com/lJ3lu2KfJG

— Melania Trump 45 Archived (@FLOTUS45) May 23, 2019
According to Fox, the visit to the cemetery was unexpected, and Trump will be holding an event on Memorial Day in Japan in honor of the deceased military men and women who lost their lives.